Rubber HTD Timing Belts
For high-performance industrial drives.
HTD belts provide a high-performance drive system for many industries where durability and low maintenance are required such as textile equipment, processing & packaging, vending machines and conveyor systems.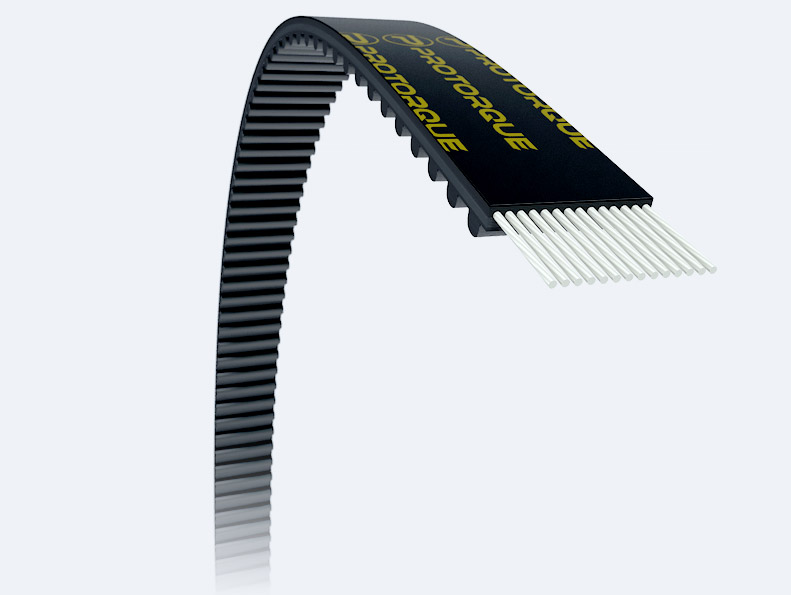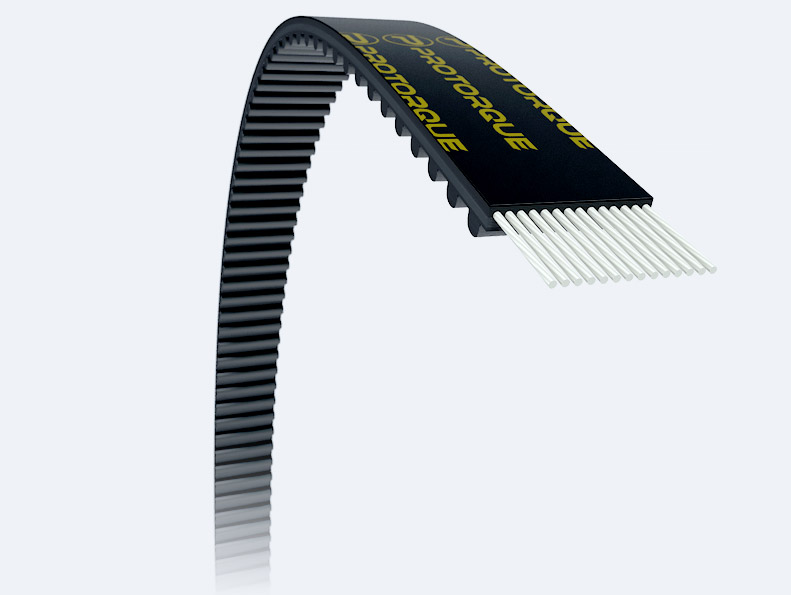 The HTD curvilinear tooth profile improves load distribution and shear resistance, resulting in higher torque and power transmission capabilities.
With a wide speed range and increased load carrying capacity, the HTD belt helps to provide constant driven speeds delivered by a smooth, compact drive design.
These belts offer high operating efficiency with no need for lubrication along with reduced maintenance of constant lengths and belt tensioning.
Backing Fabric
Protective and hard-wearing elastomeric rubber backing allows consistent adhesion and minimal frictional wear, permitting reverse idler power transmission.
Tension cords
Strong 'S and Z' wound low stretch fibreglass tensile members ensure perfect belt tracking and dimensional stability, as well as excellent flex life and high resistance to elongation.
Tooth profile
Precisely formed HTD tooth profile provides optimal pitching in pulley grooves for extremely accurate operation.
Facing Fabric
Tough, low friction nylon facing provides excellent tooth protection and abrasion resistance.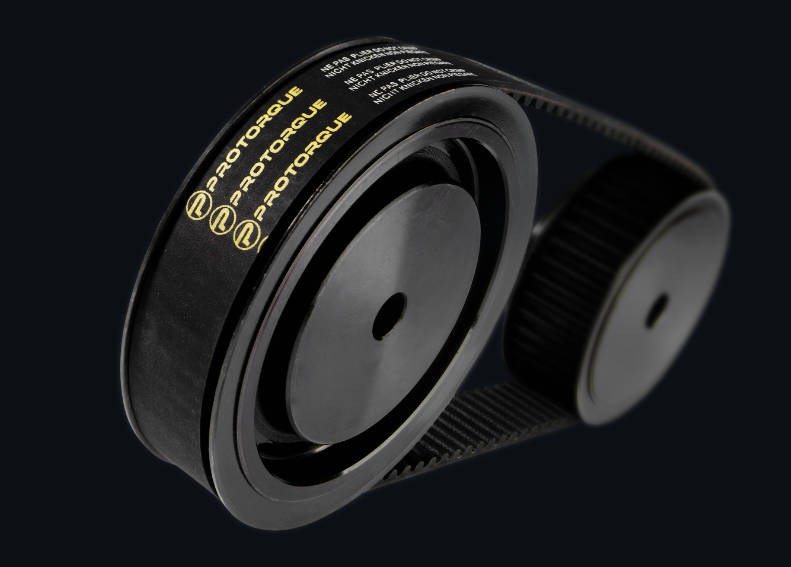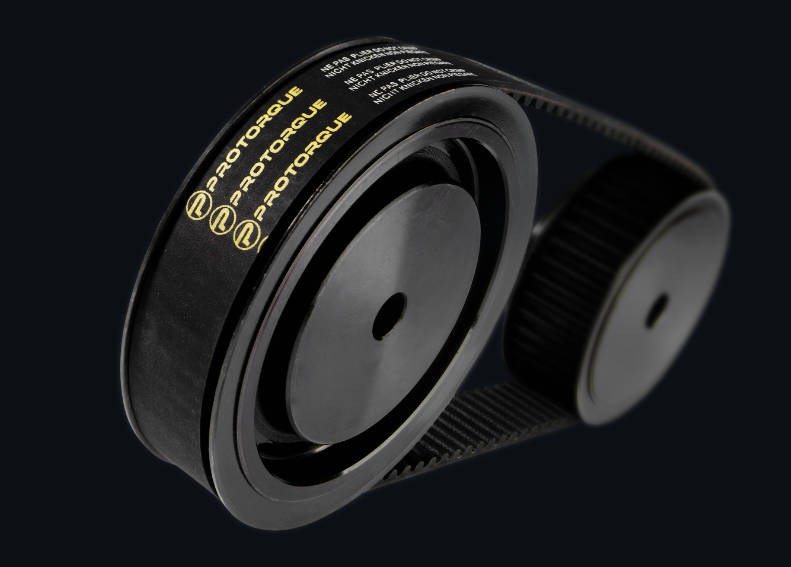 Resistant
Moderate resistance to common oils.
Good resistance to heat & cold environments.
Noise
Low noise, high speed ratio, high belt speed.
Standards
Meets RoHS and REACH requirements.
ISO 13050
ISO 13050
5M
8M
14M
Properties
Tensile strength (N/mm)
160
300
400
Load (N)
130
240
320
Elongation (%)
4.0
4.0
4.0
Hardness (Shore A +/- 4°)
82.0
82.0
82.0
Adhesion of cloth (N/mm)
6.0
10.0
12.0
Adhesion of cord (N)
400
700
1200
Tooth shear strength (N/mm)
50
60
80
Section Dimensions
Pitch (mm)
5.0
8.0
14.0
Height (mm)
2.06
3.38
6.02
Angle (°)
14
14
14
Width (mm)
3.05
5.15
9.40
Foot radius (mm)
0.42
0.70
1.25
Head radius (mm)
1.49
2.46
4.50
Belt Thickness (mm)
3.80
6.00
10.00
Belt Weight per meter per 10mm width (Kg/m)
0.041
0.063
0.108
Min. crimp (mm)
25
40
70
Teeth range (min-max)
45 - 400
48 - 450
69 - 327
Pitch length
225 - 2000
984 - 3600
966 - 4578
Standard widths: 9mm, 15mm and 25mm
| Reference | Size | Length Lp (mm) | No. of Teeth | Tooth Pitch (mm) |
| --- | --- | --- | --- | --- |
| 225-5M | 5x225Lp | 225 | 45 | 5 |
| 245-5M | 5x245Lp | 245 | 49 | 5 |
| 265-5M | 5x265Lp | 265 | 53 | 5 |
| 285-5M | 5x285Lp | 285 | 57 | 5 |
| 295-5M | 5x295Lp | 295 | 59 | 5 |
| 300-5M | 5x300Lp | 300 | 60 | 5 |
| 305-5M | 5x305Lp | 305 | 61 | 5 |
| 325-5M | 5x325Lp | 325 | 65 | 5 |
| 330-5M | 5x330Lp | 330 | 66 | 5 |
| 350-5M | 5x350Lp | 350 | 70 | 5 |
| 375-5M | 5x375Lp | 375 | 75 | 5 |
| 385-5M | 5x385Lp | 385 | 77 | 5 |
| 400-5M | 5x400Lp | 400 | 80 | 5 |
| 420-5M | 5x420Lp | 420 | 84 | 5 |
| 425-5M | 5x425Lp | 425 | 85 | 5 |
| 450-5M | 5x450Lp | 450 | 90 | 5 |
| 460-5M | 5x460Lp | 460 | 92 | 5 |
| 475-5M | 5x475Lp | 475 | 95 | 5 |
| 500-5M | 5x500Lp | 500 | 100 | 5 |
| 525-5M | 5x525Lp | 525 | 105 | 5 |
| 535-5M | 5x535Lp | 535 | 107 | 5 |
| 540-5M | 5x540Lp | 540 | 108 | 5 |
| 550-5M | 5x550Lp | 550 | 110 | 5 |
| 565-5M | 5x565Lp | 565 | 113 | 5 |
| 575-5M | 5x575Lp | 575 | 115 | 5 |
| 600-5M | 5x600Lp | 600 | 120 | 5 |
| 615-5M | 5x615Lp | 615 | 123 | 5 |
| 635-5M | 5x635Lp | 635 | 127 | 5 |
| 640-5M | 5x640Lp | 640 | 128 | 5 |
| 670-5M | 5x670Lp | 670 | 134 | 5 |
| 700-5M | 5x700Lp | 700 | 140 | 5 |
| 710-5M | 5x710Lp | 710 | 142 | 5 |
| 740-5M | 5x740Lp | 740 | 148 | 5 |
| 750-5M | 5x750Lp | 750 | 150 | 5 |
| 755-5M | 5x755Lp | 755 | 151 | 5 |
| 800-5M | 5x800Lp | 800 | 160 | 5 |
| 850-5M | 5x850Lp | 850 | 170 | 5 |
| 890-5M | 5x890Lp | 890 | 178 | 5 |
| 900-5M | 5x900Lp | 900 | 180 | 5 |
| 950-5M | 5x950Lp | 950 | 190 | 5 |
| 1000-5M | 5x1000Lp | 1000 | 200 | 5 |
| 1050-5M | 5x1050Lp | 1050 | 210 | 5 |
| 1100-5M | 5x1100Lp | 1100 | 220 | 5 |
| 1125-5M | 5x1125Lp | 1125 | 225 | 5 |
| 1200-5M | 5x1200Lp | 1200 | 240 | 5 |
| 1240-5M | 5x1240Lp | 1240 | 248 | 5 |
| 1270-5M | 5x1270Lp | 1270 | 254 | 5 |
| 1420-5M | 5x1420Lp | 1420 | 284 | 5 |
| 1595-5M | 5x1595Lp | 1595 | 319 | 5 |
| 1690-5M | 5x1690Lp | 1690 | 338 | 5 |
| 1790-5M | 5x1790Lp | 1790 | 358 | 5 |
| 1800-5M | 5x1800Lp | 1800 | 360 | 5 |
| 1895-5M | 5x1895Lp | 1895 | 379 | 5 |
| 2000-5M | 5x2000Lp | 2000 | 400 | 5 |
Standard widths: 20mm, 30mm, 50mm and 85mm
| Reference | Size | Length Lp (mm) | No. of Teeth | Tooth Pitch (mm) |
| --- | --- | --- | --- | --- |
| 384-8M | 8x384Lp | 384 | 48 | 8 |
| 480-8M | 8x480Lp | 480 | 60 | 8 |
| 544-8M | 8x544Lp | 544 | 68 | 8 |
| 560-8M | 8x560Lp | 560 | 70 | 8 |
| 600-8M | 8x600Lp | 600 | 75 | 8 |
| 632-8M | 8x632Lp | 632 | 79 | 8 |
| 640-8M | 8x640Lp | 640 | 80 | 8 |
| 656-8M | 8x656Lp | 656 | 82 | 8 |
| 680-8M | 8x680Lp | 680 | 85 | 8 |
| 720-8M | 8x720Lp | 720 | 90 | 8 |
| 760-8M | 8x760Lp | 760 | 95 | 8 |
| 800-8M | 8x800Lp | 800 | 100 | 8 |
| 840-8M | 8x840Lp | 840 | 105 | 8 |
| 880-8M | 8x880Lp | 880 | 110 | 8 |
| 896-8M | 8x896Lp | 896 | 112 | 8 |
| 920-8M | 8x920Lp | 920 | 115 | 8 |
| 960-8M | 8x960Lp | 960 | 120 | 8 |
| 1000-8M | 8x1000Lp | 1000 | 125 | 8 |
| 1040-8M | 8x1040Lp | 1040 | 130 | 8 |
| 1080-8M | 8x1080Lp | 1080 | 135 | 8 |
| 1120-8M | 8x1120Lp | 1120 | 140 | 8 |
| 1160-8M | 8x1160Lp | 1160 | 145 | 8 |
| 1200-8M | 8x1200Lp | 1200 | 150 | 8 |
| 1280-8M | 8x1280Lp | 1280 | 160 | 8 |
| 1328-8M | 8x1328Lp | 1328 | 166 | 8 |
| 1400-8M | 8x1400Lp | 1400 | 175 | 8 |
| 1440-8M | 8x1440Lp | 1440 | 180 | 8 |
| 1552-8M | 8x1552Lp | 1552 | 194 | 8 |
| 1600-8M | 8x1600Lp | 1600 | 200 | 8 |
| 1760-8M | 8x1760Lp | 1760 | 220 | 8 |
| 1800-8M | 8x1800Lp | 1800 | 225 | 8 |
| 2000-8M | 8x2000Lp | 2000 | 250 | 8 |
| 2400-8M | 8x2400Lp | 2400 | 300 | 8 |
| 2600-8M | 8x2600Lp | 2600 | 325 | 8 |
| 2800-8M | 8x2800Lp | 2800 | 350 | 8 |
| 3280-8M | 8x3280Lp | 3280 | 410 | 8 |
| 3600-8M | 8x3600Lp | 3600 | 450 | 8 |
Standard widths: 40mm, 55mm, 85mm, 115mm and 170mm
| Reference | Size | Length Lp (mm) | No. of Teeth | Tooth Pitch (mm) |
| --- | --- | --- | --- | --- |
| 966-14M | 14x966Lp | 966 | 69 | 14 |
| 1190-14M | 14x1190Lp | 1190 | 85 | 14 |
| 1260-14M | 14x1260Lp | 1260 | 90 | 14 |
| 1344-14M | 14x1344Lp | 1344 | 96 | 14 |
| 1400-14M | 14x1400Lp | 1400 | 100 | 14 |
| 1610-14M | 14x1610Lp | 1610 | 115 | 14 |
| 1778-14M | 14x1778Lp | 1778 | 127 | 14 |
| 1890-14M | 14x1890Lp | 1890 | 135 | 14 |
| 1904-14M | 14x1904Lp | 1904 | 136 | 14 |
| 2100-14M | 14x2100Lp | 2100 | 150 | 14 |
| 2310-14M | 14x2310Lp | 2310 | 165 | 14 |
| 2450-14M | 14x2450Lp | 2450 | 175 | 14 |
| 2590-14M | 14x2590Lp | 2590 | 185 | 14 |
| 2800-14M | 14x2800Lp | 2800 | 200 | 14 |
| 3150-14M | 14x3150Lp | 3150 | 225 | 14 |
| 3360-14M | 14x3360Lp | 3360 | 240 | 14 |
| 3500-14M | 14x3500Lp | 3500 | 250 | 14 |
| 3850-14M | 14x3850Lp | 3850 | 275 | 14 |
| 4326-14M | 14x4326Lp | 4326 | 309 | 14 |
| 4578-14M | 14x4578Lp | 4578 | 327 | 14 |