Roller chain
Efficient and reliable chain suitable for a broad range of applications.
Delivering efficient and reliable power transmission, Protorque roller chain helps businesses to minimise downtime and optimise productivity. The chain is suitable for a broad range of applications and is used in many industries.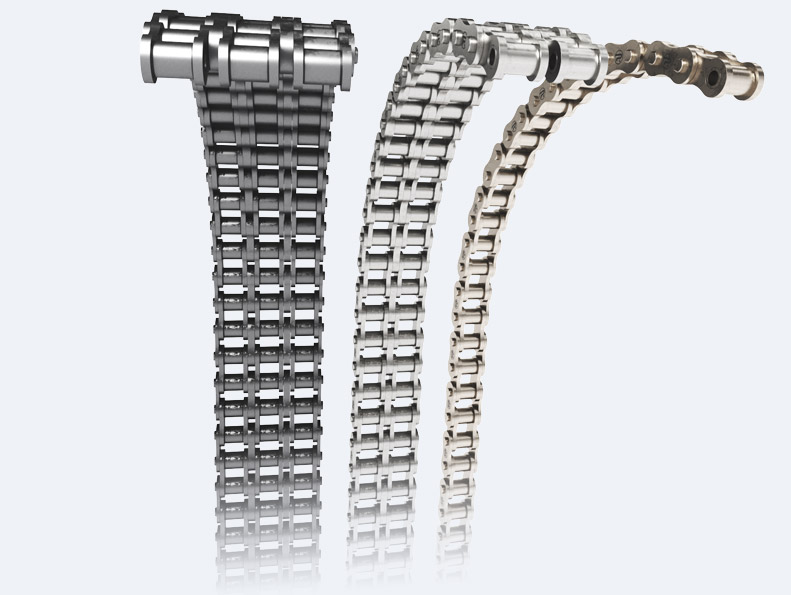 A cost-effective and reliable chain according to ISO606. See the different types here and find the best suitable for your application.
STANDARD ROLLER CHAIN
A general purpose chain suitable for a broad range of industrial applications. This chain is often used in industries such as material handling and wood industries.
CORROSION RESISTANT ROLLER CHAIN
Your best option when you need reliable performance in tough environments or when in contact with sensitive materials. Choose nickel plated for good corrosion resistance, zinc plated better resistance in demanding applications, and stainless steel when corrosion is not an option.
PROTORQUE PLUS ROLLER CHAIN
Protorque PLUS is suitable for more demanding applications and the perfect solution for applications within lifting, transporting or transmitting power.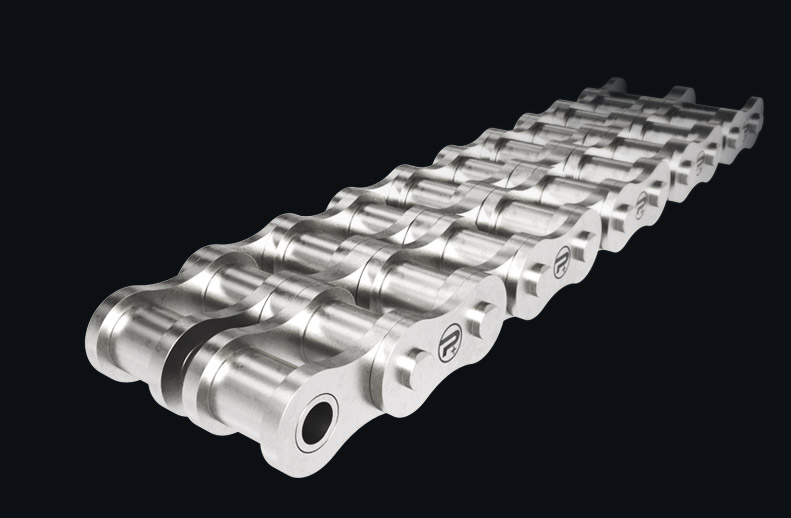 Temperature operating range
-10°C to +120°C with standard lubrication
Preloading
All Protorque roller chains are pre-loaded to secure minimal start up adjustments.
Lubrication
For the most common types of application, standard lubrication can be used on all chains directly out of the box.
Standards
ISO606 – DIN 8187 – DIN 8188.
Meets RoHS and REACH requirements.
| ISO | Pitch p (in) | Pitch p (mm) | Max roller dia. d1 (mm) | Min. inner width b1 (mm) | Breaking load (kN) | Weight (kg/m) |
| --- | --- | --- | --- | --- | --- | --- |
| 06B-1 | 3/8 | 9.525 | 6.35 | 5.72 | 8.9 | 0.41 |
| 08B-1 | 1/2 | 12.7 | 8.51 | 7.75 | 17.8 | 0.69 |
| 10B-1 | 5/8 | 15.875 | 10.16 | 9.65 | 22.2 | 0.93 |
| 12B-1 | 3/4 | 19.05 | 12.07 | 11.68 | 28.9 | 1.15 |
| 16B-1 | 1 | 25.4 | 15.88 | 17.02 | 60 | 2.71 |
| 20B-1 | 1 1/4 | 31.75 | 19.05 | 19.56 | 95 | 3.7 |
| 24B-1 | 1 1/2 | 38.1 | 25.4 | 25.4 | 160 | 7.1 |
| 28B-1 | 1 3/4 | 44.45 | 27.94 | 30.99 | 200 | 8.5 |
| 32B-1 | 2 | 50.8 | 29.21 | 30.99 | 250 | 10.25 |
| 40B-1 | 2 1/2 | 63.5 | 39.37 | 37.1 | 355 | 16.35 |
| 48B-1 | 3 | 76.2 | 48.26 | 45.72 | 560 | 25 |
| ISO | Pitch p (in) | Pitch p (mm) | Max roller dia. d1 (mm) | Min. inner width b1 (mm) | Breaking load (kN) | Weight (kg/m) |
| --- | --- | --- | --- | --- | --- | --- |
| 06B-2 | 3/8 | 9.525 | 6.35 | 5.72 | 16.9 | 0.77 |
| 08B-2 | 1/2 | 12.7 | 8.51 | 7.75 | 31.1 | 1.34 |
| 10B-2 | 5/8 | 15.875 | 10.16 | 9.65 | 44.5 | 1.84 |
| 12B-2 | 3/4 | 19.05 | 12.07 | 11.68 | 57.8 | 2.31 |
| 16B-2 | 1 | 25.4 | 15.88 | 17.02 | 106 | 5.42 |
| 20B-2 | 1 1/4 | 31.75 | 19.05 | 19.56 | 170 | 7.2 |
| 24B-2 | 1 1/2 | 38.1 | 25.4 | 25.4 | 280 | 13.4 |
| 28B-2 | 1 3/4 | 44.45 | 27.94 | 30.99 | 360 | 16.6 |
| 32B-2 | 2 | 50.8 | 29.21 | 30.99 | 450 | 21 |
| 40B-2 | 2 1/2 | 63.5 | 39.37 | 37.1 | 630 | 32 |
| 48B-2 | 3 | 76.2 | 48.26 | 45.72 | 1000 | 50 |
| ISO | Pitch p (in) | Pitch p (mm) | Max roller dia. d1 (mm) | Min. inner width b1 (mm) | Breaking load (kN) | Weight (kg/m) |
| --- | --- | --- | --- | --- | --- | --- |
| 06B-3 | 3/8 | 9.525 | 6.35 | 5.72 | 24.9 | 1.16 |
| 08B-3 | 1/2 | 12.7 | 8.51 | 7.75 | 44.5 | 2.03 |
| 10B-3 | 5/8 | 15.875 | 10.16 | 9.65 | 66.7 | 2.77 |
| 12B-3 | 3/4 | 19.05 | 12.07 | 11.68 | 86.7 | 3.46 |
| 16B-3 | 1 | 25.4 | 15.88 | 17.02 | 160 | 8.13 |
| 20B-3 | 1 1/4" | 31.75 | 19.05 | 19.56 | 250 | 10.82 |
| 24B-3 | 1 1/2 | 38.1 | 25.4 | 25.4 | 425 | 20.1 |
| 28B-3 | 1 3/4 | 44.45 | 27.94 | 30.99 | 530 | 24.92 |
| 32B-3 | 2 | 50.8 | 29.21 | 30.99 | 670 | 31.56 |
| 40B-3 | 2 1/2 | 63.5 | 39.37 | 37.1 | 950 | 48.1 |
| 48B-3 | 3 | 76.2 | 48.26 | 45.72 | 1500 | 75 |
| ISO | Carbon steel | Protorque Plus | Straight side plates | Nickel plated | Zinc plated | Stainless steel |
| --- | --- | --- | --- | --- | --- | --- |
| 06B-1 | 06B1P | | | | | 06B1SSP |
| 08B-1 | 08B1P | | 08B1GLP | 08B1NP | 08B1ZP | 08B1SSP |
| 10B-1 | 10B1P | 10B1P+ | 10B1GLP | 10B1NP | 10B1ZP | 10B1SSP |
| 12B-1 | 12B1P | 12B1P+ | 12B1GLP | 12B1NP | 12B1ZP | 12B1SSP |
| 16B-1 | 16B1P | 16B1P+ | 16B1GLP | 16B1NP | 16B1ZP | 16B1SSP |
| 20B-1 | 20B1P | | 20B1GLP | 20B1NP | 20B1ZP | |
| 24B-1 | 24B1P | | 24B1GLP | 24B1NP | 24B1ZP | |
| 28B-1 | 28B1P | | 28B1GLP | 28B1NP | | |
| 32B-1 | 32B1P | | | | | |
| 40B-1 | 40B1P | | | | | |
| 48B-1 | 48B1P | | | | | |
| ISO | Carbon steel | Protorque Plus | Straight side plates | Nickel plated | Zinc plated | Stainless steel |
| --- | --- | --- | --- | --- | --- | --- |
| 06B-2 | 06B2P | | | | | |
| 08B-2 | 08B2P | 08B2P+ | 08B2GLP | | | 08B2SSP |
| 10B-2 | 10B2P | | 10B2GLP | | | |
| 12B-2 | 12B2P | | 12B2GLP | | | |
| 16B-2 | 16B2P | | 16B2GLP | | | |
| 20B-2 | 20B2P | | | | | |
| 24B-2 | 24B2P | | | | | |
| 28B-2 | 28B2P | | | | | |
| 32B-2 | 32B2P | | | | | |
| 40B-2 | 40B2P | | | | | |
| 48B-2 | 48B2P | | | | | |
| ISO | Carbon steel | Protorque Plus | Straight side plates | Nickel plated | Zinc plated | Stainless steel |
| --- | --- | --- | --- | --- | --- | --- |
| 06B-3 | 06B3P | | | | | |
| 08B-3 | 08B3P | | 08B3GLP | | | |
| 10B-3 | 10B3P | | | | | |
| 12B-3 | 12B3P | | | | | |
| 16B-3 | 16B3P | | | | | |
| 20B-3 | 20B3P | | | | | |
| 24B-3 | 24B3P | | | | | |
| 28B-3 | 28B3P | | | | | |
| 32B-3 | 32B3P | | | | | |
| 40B-3 | 40B3P | | | | | |
| 48B-3 | 48B3P | | | | | |