Wrapped High Performance Wedge Belts
Designed with mechanical engineering in mind.
Suitable for all light to medium industrial applications. Narrow wedge v-belts are used in general mechanical engineering applications from pumps and compressors to agricultural machinery and stone crushers.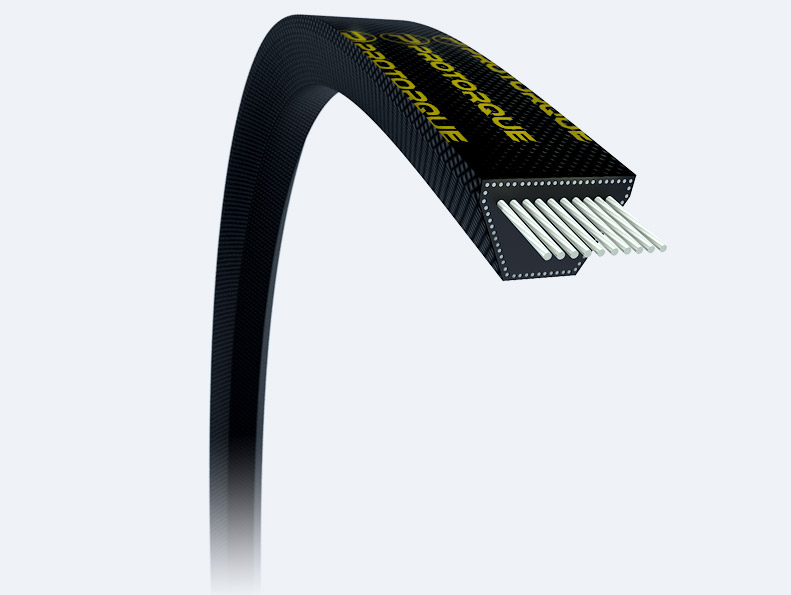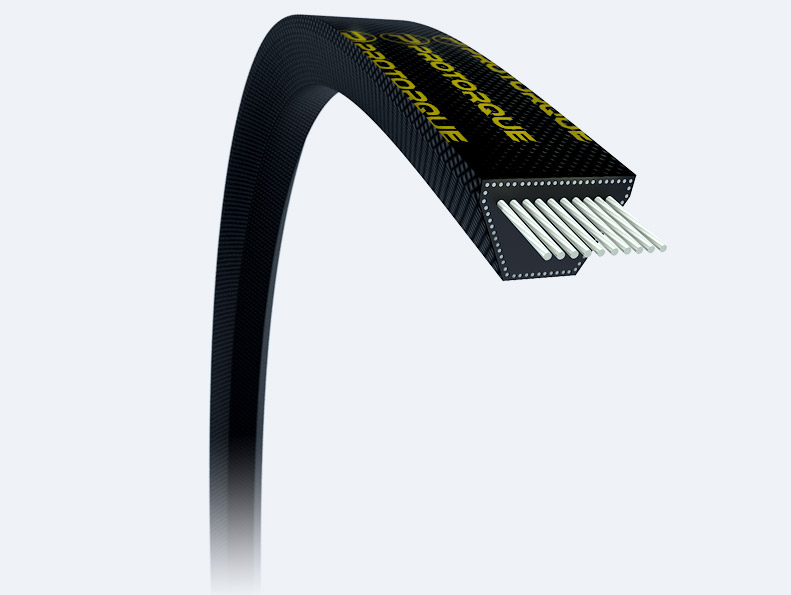 An ideal solution for drives where space limitations, weight and/or higher power capacity are important factors. The narrower section profile of the belt provides a larger contact surface with the pulley, transmitting substantially more power and provides greater flexibility and stability. Protorque® Wedge Belts are designed to be used with standard V-belt pulleys according to DIN 2211.
EXTENDED BELT LIFE
Heavy duty wear resistant rubber impregnated fabric wrap delivers protection from oil, heat and dirt resulting in extended belt life.
DYNAMIC LOAD CAPACITY
Specially treated low stretch polyester tension cords provide higher dynamic load capability and resistance to flex fatigue and shock loads.
HIGH BELT TENSIONS
Fibre loaded rubber base provides great transverse rigidity and support for tension cords permitting high belt tensions and increased power transmission capability.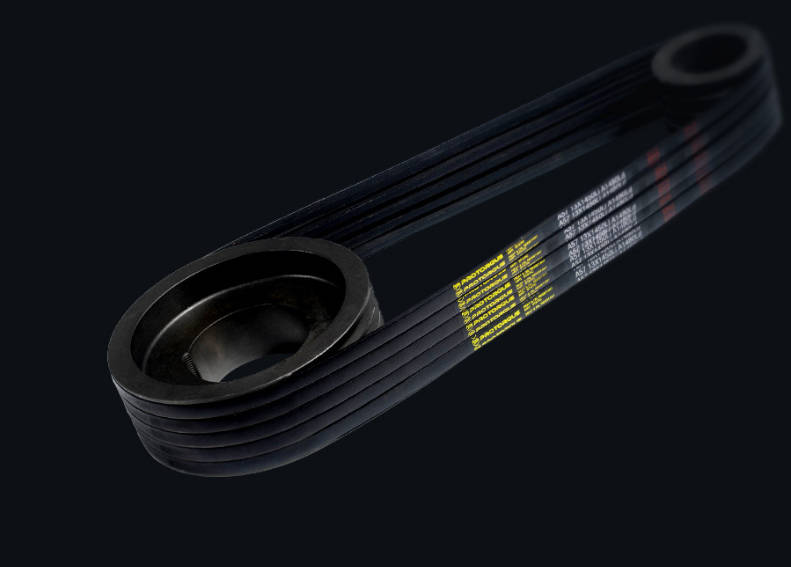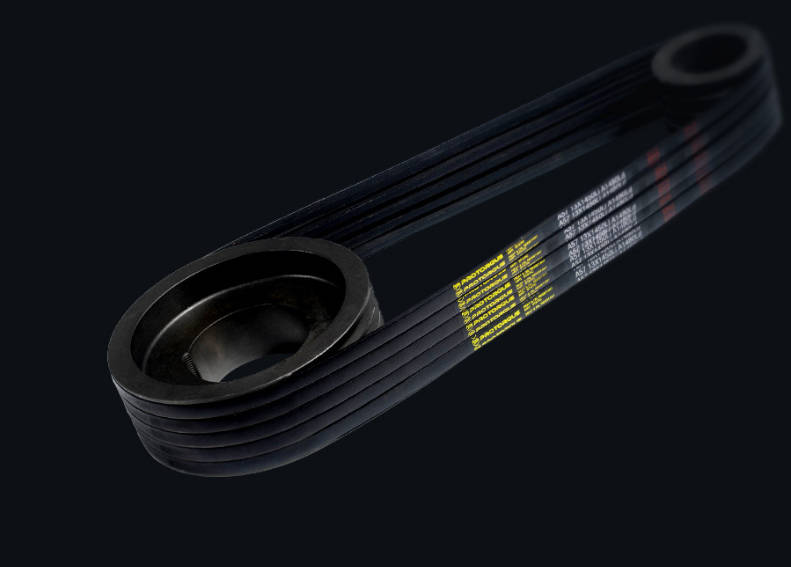 Consistent Length
As per ISO specifications.
Temperature operating range
Resistant
Good resistance to dust and abrasion.
Moderate resistance to mineral oil.
Antistatic
Meets requirements of ISO 1813.
Standards
DIN 7753 Part 1 – ISO 4184 / IP22 RMA-MPTA / BS 3790.
Meets RoHS and REACH requirements.
| ISO 4184 | SPZ | SPA | SPB | SPC |
| --- | --- | --- | --- | --- |
| Section WxH (mm) | 10x8 | 13x10 | 17x14 | 22x18 |
| Datum Width (mm) | 8.5 | 11 | 14 | 19 |
| Belt Weight per meter (Kg/m) | 0.08 | 0.13 | 0.22 | 0.35 |
| Min. pulley diameter (mm) | 63 | 90 | 140 | 224 |
| Max flexing frequency (s-1) | 100 | 100 | 100 | 100 |
| Max belt speed (m/s) | 40 | 40 | 40 | 40 |
| Min. length (mm) | 406 | 600 | 1100 | 1800 |
| Max. length (mm) | 5080 | 5080 | 10008 | 12500 |
| Length Conversion (mm) | Li=Ld+50 | Li=Ld+63 | Li=Ld+88 | Li=Ld+113 |
| Belt Reference | Datum Length (mm) |
| --- | --- |
| SPZ1000 | 1000 |
| SPZ1010 | 1010 |
| SPZ1012 | 1012 |
| SPZ1024 | 1024 |
| SPZ1037 | 1037 |
| SPZ1047 | 1047 |
| SPZ1060 | 1060 |
| SPZ1077 | 1077 |
| SPZ1080 | 1080 |
| SPZ1087 | 1087 |
| SPZ1100 | 1100 |
| SPZ1112 | 1112 |
| SPZ1120 | 1120 |
| SPZ1137 | 1137 |
| SPZ1140 | 1140 |
| SPZ1150 | 1150 |
| SPZ1162 | 1162 |
| SPZ1180 | 1180 |
| SPZ1187 | 1187 |
| SPZ1200 | 1200 |
| SPZ1202 | 1202 |
| SPZ1212 | 1212 |
| SPZ1237 | 1237 |
| SPZ1250 | 1250 |
| SPZ1262 | 1262 |
| SPZ1270 | 1270 |
| SPZ1287 | 1287 |
| SPZ1312 | 1312 |
| SPZ1320 | 1320 |
| SPZ1337 | 1337 |
| SPZ1340 | 1340 |
| SPZ1347 | 1347 |
| SPZ1362 | 1362 |
| SPZ1387 | 1387 |
| SPZ1400 | 1400 |
| SPZ1412 | 1412 |
| SPZ1420 | 1420 |
| SPZ1437 | 1437 |
| SPZ1462 | 1462 |
| SPZ1470 | 1470 |
| SPZ1487 | 1487 |
| SPZ1500 | 1500 |
| SPZ1512 | 1512 |
| SPZ1520 | 1520 |
| SPZ1537 | 1537 |
| SPZ1560 | 1560 |
| SPZ1562 | 1562 |
| SPZ1587 | 1587 |
| SPZ1600 | 1600 |
| SPZ1612 | 1612 |
| SPZ1637 | 1637 |
| SPZ1650 | 1650 |
| SPZ1662 | 1662 |
| SPZ1687 | 1687 |
| SPZ1700 | 1700 |
| SPZ1737 | 1737 |
| SPZ1750 | 1750 |
| SPZ1762 | 1762 |
| SPZ1787 | 1787 |
| SPZ1800 | 1800 |
| SPZ1812 | 1812 |
| SPZ1837 | 1837 |
| SPZ1850 | 1850 |
| SPZ1862 | 1862 |
| SPZ1887 | 1887 |
| SPZ1900 | 1900 |
| SPZ1937 | 1937 |
| SPZ1950 | 1950 |
| SPZ1987 | 1987 |
| SPZ2000 | 2000 |
| SPZ2030 | 2030 |
| SPZ2037 | 2037 |
| SPZ2060 | 2060 |
| SPZ2062 | 2062 |
| SPZ2087 | 2087 |
| SPZ2120 | 2120 |
| SPZ2137 | 2137 |
| SPZ2160 | 2160 |
| SPZ2187 | 2187 |
| SPZ2240 | 2240 |
| SPZ2280 | 2280 |
| SPZ2287 | 2287 |
| SPZ2300 | 2300 |
| SPZ2360 | 2360 |
| SPZ2387 | 2387 |
| SPZ2410 | 2410 |
| SPZ2437 | 2437 |
| SPZ2450 | 2450 |
| SPZ2500 | 2500 |
| SPZ2540 | 2540 |
| SPZ2650 | 2650 |
| SPZ2690 | 2690 |
| SPZ2800 | 2800 |
| SPZ2840 | 2840 |
| SPZ3000 | 3000 |
| SPZ3150 | 3150 |
| SPZ3550 | 3550 |
| SPZ487 | 487 |
| SPZ512 | 512 |
| SPZ562 | 562 |
| SPZ587 | 587 |
| SPZ600 | 600 |
| SPZ612 | 612 |
| SPZ630 | 630 |
| SPZ637 | 637 |
| SPZ662 | 662 |
| SPZ670 | 670 |
| SPZ687 | 687 |
| SPZ700 | 700 |
| SPZ710 | 710 |
| SPZ712 | 712 |
| SPZ722 | 722 |
| SPZ737 | 737 |
| SPZ750 | 750 |
| SPZ760 | 760 |
| SPZ762 | 762 |
| SPZ772 | 772 |
| SPZ787 | 787 |
| SPZ800 | 800 |
| SPZ812 | 812 |
| SPZ825 | 825 |
| SPZ837 | 837 |
| SPZ850 | 850 |
| SPZ862 | 862 |
| SPZ875 | 875 |
| SPZ887 | 887 |
| SPZ900 | 900 |
| SPZ912 | 912 |
| SPZ925 | 925 |
| SPZ940 | 940 |
| SPZ950 | 950 |
| SPZ962 | 962 |
| SPZ987 | 987 |
| Belt Reference | Datum Length (mm) |
| --- | --- |
| SPA1000 | 1000 |
| SPA1007 | 1007 |
| SPA1032 | 1032 |
| SPA1042 | 1042 |
| SPA1060 | 1060 |
| SPA1082 | 1082 |
| SPA1090 | 1090 |
| SPA1107 | 1107 |
| SPA1120 | 1120 |
| SPA1132 | 1132 |
| SPA1150 | 1150 |
| SPA1157 | 1157 |
| SPA1180 | 1180 |
| SPA1200 | 1200 |
| SPA1207 | 1207 |
| SPA1220 | 1220 |
| SPA1232 | 1232 |
| SPA1250 | 1250 |
| SPA1257 | 1257 |
| SPA1272 | 1272 |
| SPA1282 | 1282 |
| SPA1300 | 1300 |
| SPA1307 | 1307 |
| SPA1320 | 1320 |
| SPA1332 | 1332 |
| SPA1357 | 1357 |
| SPA1360 | 1360 |
| SPA1367 | 1367 |
| SPA1382 | 1382 |
| SPA1400 | 1400 |
| SPA1407 | 1407 |
| SPA1425 | 1425 |
| SPA1432 | 1432 |
| SPA1450 | 1450 |
| SPA1457 | 1457 |
| SPA1482 | 1482 |
| SPA1500 | 1500 |
| SPA1507 | 1507 |
| SPA1532 | 1532 |
| SPA1550 | 1550 |
| SPA1557 | 1557 |
| SPA1582 | 1582 |
| SPA1600 | 1600 |
| SPA1607 | 1607 |
| SPA1632 | 1632 |
| SPA1650 | 1650 |
| SPA1657 | 1657 |
| SPA1682 | 1682 |
| SPA1700 | 1700 |
| SPA1707 | 1707 |
| SPA1732 | 1732 |
| SPA1750 | 1750 |
| SPA1757 | 1757 |
| SPA1782 | 1782 |
| SPA1800 | 1800 |
| SPA1807 | 1807 |
| SPA1832 | 1832 |
| SPA1850 | 1850 |
| SPA1857 | 1857 |
| SPA1882 | 1882 |
| SPA1900 | 1900 |
| SPA1907 | 1907 |
| SPA1932 | 1932 |
| SPA1950 | 1950 |
| SPA1957 | 1957 |
| SPA1982 | 1982 |
| SPA2000 | 2000 |
| SPA2032 | 2032 |
| SPA2057 | 2057 |
| SPA2060 | 2060 |
| SPA2082 | 2082 |
| SPA2120 | 2120 |
| SPA2132 | 2132 |
| SPA2160 | 2160 |
| SPA2182 | 2182 |
| SPA2207 | 2207 |
| SPA2232 | 2232 |
| SPA2240 | 2240 |
| SPA2282 | 2282 |
| SPA2300 | 2300 |
| SPA2307 | 2307 |
| SPA2332 | 2332 |
| SPA2360 | 2360 |
| SPA2382 | 2382 |
| SPA2430 | 2430 |
| SPA2432 | 2432 |
| SPA2482 | 2482 |
| SPA2500 | 2500 |
| SPA2532 | 2532 |
| SPA2580 | 2580 |
| SPA2582 | 2582 |
| SPA2607 | 2607 |
| SPA2632 | 2632 |
| SPA2650 | 2650 |
| SPA2682 | 2682 |
| SPA2720 | 2720 |
| SPA2732 | 2732 |
| SPA2782 | 2782 |
| SPA2832 | 2832 |
| SPA2847 | 2847 |
| SPA2882 | 2882 |
| SPA2900 | 2900 |
| SPA2932 | 2932 |
| SPA2982 | 2982 |
| SPA3000 | 3000 |
| SPA3032 | 3032 |
| SPA3082 | 3082 |
| SPA3150 | 3150 |
| SPA3182 | 3182 |
| SPA3250 | 3250 |
| SPA3282 | 3282 |
| SPA3350 | 3350 |
| SPA3382 | 3382 |
| SPA3450 | 3450 |
| SPA3482 | 3482 |
| SPA3550 | 3550 |
| SPA3650 | 3650 |
| SPA3750 | 3750 |
| SPA3850 | 3850 |
| SPA3870 | 3870 |
| SPA4000 | 4000 |
| SPA4250 | 4250 |
| SPA4500 | 4500 |
| SPA732 | 732 |
| SPA757 | 757 |
| SPA782 | 782 |
| SPA800 | 800 |
| SPA807 | 807 |
| SPA832 | 832 |
| SPA850 | 850 |
| SPA857 | 857 |
| SPA882 | 882 |
| SPA900 | 900 |
| SPA907 | 907 |
| SPA925 | 925 |
| SPA932 | 932 |
| SPA950 | 950 |
| SPA957 | 957 |
| SPA975 | 975 |
| SPA982 | 982 |
| Belt Reference | Datum Length (mm) |
| --- | --- |
| SPB1100 | 1100 |
| SPB1175 | 1175 |
| SPB1200 | 1200 |
| SPB1250 | 1250 |
| SPB1260 | 1260 |
| SPB1270 | 1270 |
| SPB1280 | 1280 |
| SPB1320 | 1320 |
| SPB1340 | 1340 |
| SPB1375 | 1375 |
| SPB1400 | 1400 |
| SPB1410 | 1410 |
| SPB1450 | 1450 |
| SPB1475 | 1475 |
| SPB1500 | 1500 |
| SPB1510 | 1510 |
| SPB1545 | 1545 |
| SPB1575 | 1575 |
| SPB1590 | 1590 |
| SPB1600 | 1600 |
| SPB1625 | 1625 |
| SPB1650 | 1650 |
| SPB1670 | 1670 |
| SPB1675 | 1675 |
| SPB1690 | 1690 |
| SPB1700 | 1700 |
| SPB1720 | 1720 |
| SPB1725 | 1725 |
| SPB1750 | 1750 |
| SPB1775 | 1775 |
| SPB1800 | 1800 |
| SPB1825 | 1825 |
| SPB1850 | 1850 |
| SPB1860 | 1860 |
| SPB1875 | 1875 |
| SPB1900 | 1900 |
| SPB1925 | 1925 |
| SPB1950 | 1950 |
| SPB1975 | 1975 |
| SPB2000 | 2000 |
| SPB2020 | 2020 |
| SPB2050 | 2050 |
| SPB2060 | 2060 |
| SPB2100 | 2100 |
| SPB2120 | 2120 |
| SPB2150 | 2150 |
| SPB2180 | 2180 |
| SPB2210 | 2210 |
| SPB2240 | 2240 |
| SPB2280 | 2280 |
| SPB2300 | 2300 |
| SPB2325 | 2325 |
| SPB2340 | 2340 |
| SPB2360 | 2360 |
| SPB2400 | 2400 |
| SPB2410 | 2410 |
| SPB2425 | 2425 |
| SPB2430 | 2430 |
| SPB2475 | 2475 |
| SPB2500 | 2500 |
| SPB2530 | 2530 |
| SPB2550 | 2550 |
| SPB2580 | 2580 |
| SPB2600 | 2600 |
| SPB2650 | 2650 |
| SPB2680 | 2680 |
| SPB2700 | 2700 |
| SPB2720 | 2720 |
| SPB2725 | 2725 |
| SPB2750 | 2750 |
| SPB2775 | 2775 |
| SPB2800 | 2800 |
| SPB2840 | 2840 |
| SPB2850 | 2850 |
| SPB2900 | 2900 |
| SPB2950 | 2950 |
| SPB2990 | 2990 |
| SPB3000 | 3000 |
| SPB3070 | 3070 |
| SPB3150 | 3150 |
| SPB3170 | 3170 |
| SPB3250 | 3250 |
| SPB3270 | 3270 |
| SPB3350 | 3350 |
| SPB3450 | 3450 |
| SPB3500 | 3500 |
| SPB3550 | 3550 |
| SPB3650 | 3650 |
| SPB3675 | 3675 |
| SPB3750 | 3750 |
| SPB3800 | 3800 |
| SPB3870 | 3870 |
| SPB4000 | 4000 |
| SPB4060 | 4060 |
| SPB4120 | 4120 |
| SPB4250 | 4250 |
| SPB4310 | 4310 |
| SPB4370 | 4370 |
| SPB4500 | 4500 |
| SPB4560 | 4560 |
| SPB4750 | 4750 |
| SPB4820 | 4820 |
| SPB5000 | 5000 |
| SPB5300 | 5300 |
| SPB5600 | 5600 |
| SPB5680 | 5680 |
| SPB6000 | 6000 |
| SPB6300 | 6300 |
| SPB6700 | 6700 |
| SPB7500 | 7500 |
| Belt Reference | Datum Length (mm) |
| --- | --- |
| SPC10000 | 10000 |
| SPC11200 | 11200 |
| SPC1700 | 1700 |
| SPC2000 | 2000 |
| SPC2060 | 2060 |
| SPC2120 | 2120 |
| SPC2240 | 2240 |
| SPC2360 | 2360 |
| SPC2500 | 2500 |
| SPC2540 | 2540 |
| SPC2650 | 2650 |
| SPC2720 | 2720 |
| SPC2800 | 2800 |
| SPC3000 | 3000 |
| SPC3150 | 3150 |
| SPC3350 | 3350 |
| SPC3500 | 3500 |
| SPC3550 | 3550 |
| SPC3620 | 3620 |
| SPC3750 | 3750 |
| SPC4000 | 4000 |
| SPC4250 | 4250 |
| SPC4500 | 4500 |
| SPC4750 | 4750 |
| SPC5000 | 5000 |
| SPC5300 | 5300 |
| SPC5600 | 5600 |
| SPC6000 | 6000 |
| SPC6300 | 6300 |
| SPC6500 | 6500 |
| SPC6700 | 6700 |
| SPC7100 | 7100 |
| SPC7500 | 7500 |
| SPC8000 | 8000 |
| SPC8500 | 8500 |
| SPC9000 | 9000 |
| SPC9500 | 9500 |