Wrapped Classical V-Belts
A classic amongst drive belts.
A durable belt providing reliable performance, dependable service and minimal maintenance, the Classical V-belt is one of our most popular belts. Used in a myriad of situations, the Protorque classical V-belt is ideal for almost any machine operating a standard classical section drive. Its versatility makes it the Ideal solution for pumps & compressors, and it is used extensively in industrial applications including agricultural and construction machinery and processing & packaging to name just a few.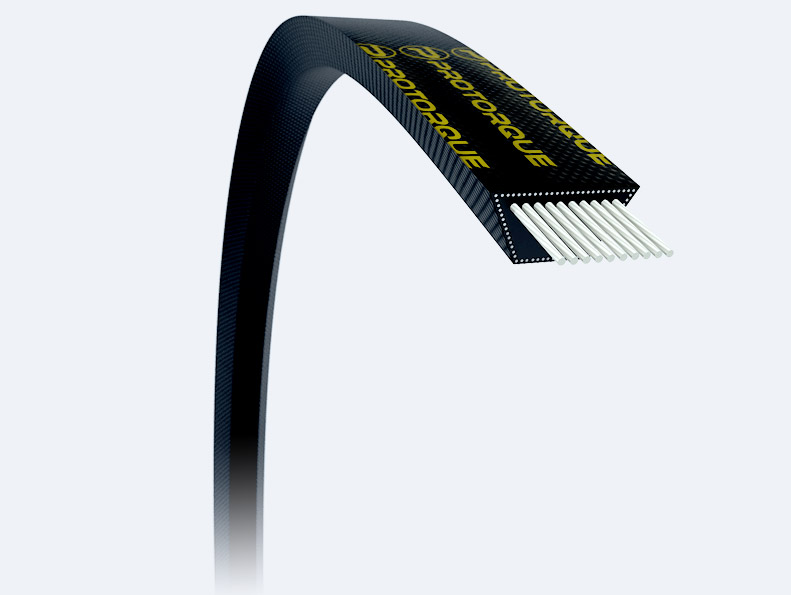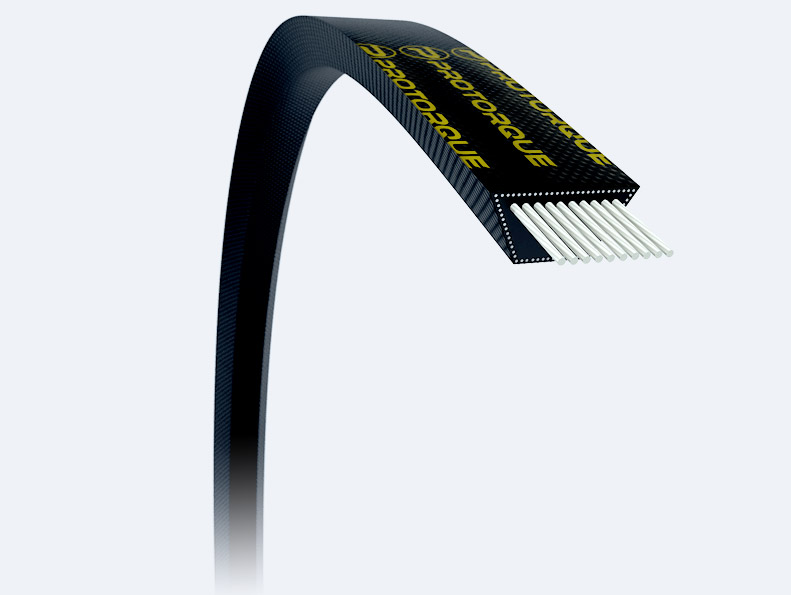 A cost effective and reliable solution for applications operating at high speeds with smaller diameter pulleys and shorter centre distances. Protorque® Classical V-belts are designed to be used with standard V-belt pulleys according to DIN 2217 or DIN 2211.
Longer Belt Life
Abrasion resistant fabric wrap not only protects the belt core but its flexibility permits the belt to bend more easily around the smallest diameter pulleys without damage - ensuring longer belt life.
Even Load Distribution
Polyester tension cords ensure even load distribution and stress absorption without cord deterioration.
Highly Flexible
Specially compounded rubber base keeps the belt flexing readily when passing over the pulleys. Fibre reinforcement provides excellent support to the cord line yet maintains belt flexibility and eliminates compression cracking.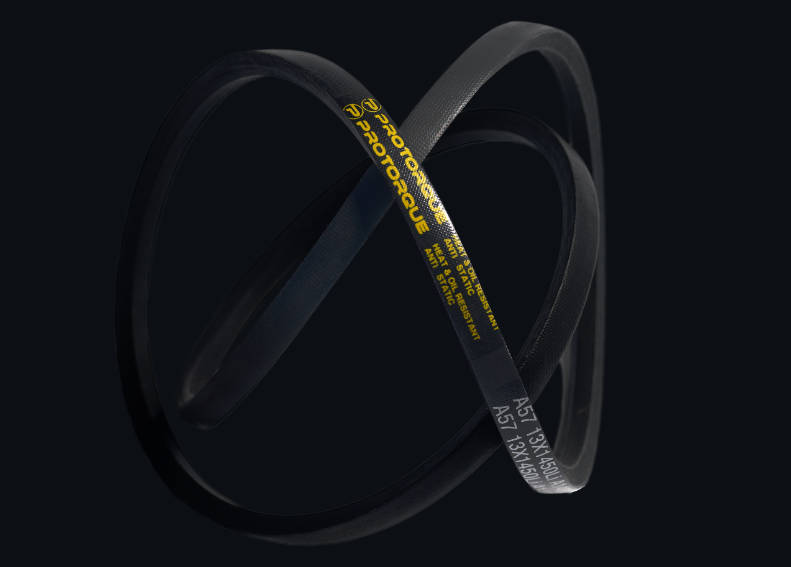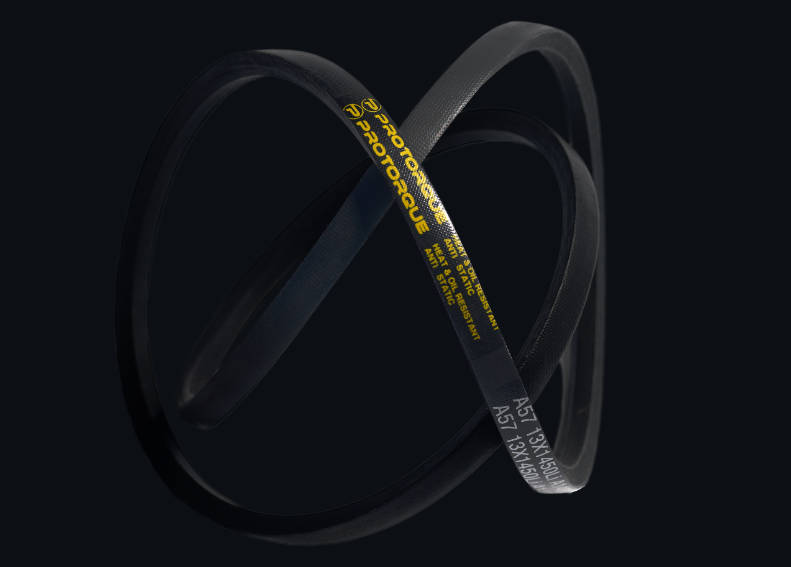 Consistent Length
As per ISO specifications.
Temperature operating range
Resistant
Oil, heat, ozone, abrasion and wear resistant.
Antistatic
Meets requirements of ISO 1813.
Standards
DIN 2215 – ISO 4184 / IP20 RMA-MPTA / BS 3790.
Meets RoHS and REACH requirements.
| ISO 4184 | Z | A | B | C | D |
| --- | --- | --- | --- | --- | --- |
| DIN 2215 | 10 | 13 | 17 | 22 | 32 |
| Section WxH (mm) | 10x6 | 13x8 | 17x11 | 22x14 | 32x19 |
| Datum Width (mm) | 8.5 | 11 | 14 | 19 | 27 |
| Belt Weight per meter (Kg/m) | 0.05 | 0.12 | 0.19 | 0.32 | 0.67 |
| Min. pulley diameter (mm) | 50 | 75 | 125 | 200 | 355 |
| Max flexing frequency (s-1) | 70 | 70 | 70 | 70 | 70 |
| Max belt speed (m/s) | 30 | 30 | 30 | 30 | 30 |
| Min. length (mm) | 330 | 356 | 483 | 737 | 2032 |
| Max. length (mm) | 3000 | 10000 | 15000 | 15240 | 15240 |
| Reference (inch) | Size (mm) | Length (inch) | Inside Length (mm) | Datum Length (mm) | Width (mm) | Height (mm) |
| --- | --- | --- | --- | --- | --- | --- |
| Z14 | 10x356Li | 14 | 356 | 378 | 10 | 6 |
| Z14.50 | 10x368Li | 14.5 | 368 | 390 | 10 | 6 |
| Z15.50 | 10x394Li | 15.5 | 394 | 416 | 10 | 6 |
| Z16 | 10x410Li | 16 | 410 | 430 | 10 | 6 |
| Z16.50 | 10x419Li | 16.5 | 419 | 441 | 10 | 6 |
| Z16.75 | 10x425Li | 16.75 | 425 | 447 | 10 | 6 |
| Z17 | 10x430Li | 17 | 430 | 450 | 10 | 6 |
| Z17.50 | 10x445Li | 17.5 | 445 | 465 | 10 | 6 |
| Z18 | 10x460Li | 18 | 460 | 490 | 10 | 6 |
| Z18.50 | 10x470Li | 18.5 | 470 | 492 | 10 | 6 |
| Z19 | 10x480Li | 19 | 480 | 510 | 10 | 6 |
| Z19.50 | 10x495Li | 19.5 | 495 | 520 | 10 | 6 |
| Z19.75 | 10x500Li | 19.75 | 500 | 522 | 10 | 6 |
| Z20 | 10x510Li | 20 | 510 | 530 | 10 | 6 |
| Z20.50 | 10x520Li | 20.5 | 520 | 540 | 10 | 6 |
| Z21 | 10x530Li | 21 | 530 | 560 | 10 | 6 |
| Z21.25 | 10x540Li | 21.25 | 540 | 562 | 10 | 6 |
| Z21.50 | 10x545Li | 21.5 | 545 | 565 | 10 | 6 |
| Z22 | 10x560Li | 22 | 560 | 585 | 10 | 6 |
| Z22.50 | 10x570Li | 22.5 | 570 | 595 | 10 | 6 |
| Z22.75 | 10x575Li | 22.75 | 575 | 600 | 10 | 6 |
| Z23 | 10x585Li | 23 | 585 | 610 | 10 | 6 |
| Z23.50 | 10x600Li | 23.5 | 600 | 625 | 10 | 6 |
| Z24 | 10x610Li | 24 | 610 | 635 | 10 | 6 |
| Z24.50 | 10x622Li | 24.5 | 622 | 644 | 10 | 6 |
| Z24.75 | 10x620Li | 24.75 | 620 | 640 | 10 | 6 |
| Z25 | 10x635Li | 25 | 635 | 660 | 10 | 6 |
| Z25.50 | 10x650Li | 25.5 | 650 | 680 | 10 | 6 |
| Z26 | 10x660Li | 26 | 660 | 690 | 10 | 6 |
| Z26.50 | 10x670Li | 26.5 | 670 | 692 | 10 | 6 |
| Z27 | 10x685Li | 27 | 685 | 710 | 10 | 6 |
| Z27.50 | 10x700Li | 27.5 | 700 | 732 | 10 | 6 |
| Z28 | 10x710Li | 28 | 710 | 735 | 10 | 6 |
| Z28.50 | 10x725Li | 28.5 | 725 | 750 | 10 | 6 |
| Z29 | 10x735Li | 29 | 735 | 760 | 10 | 6 |
| Z29.50 | 10x750Li | 29.5 | 750 | 772 | 10 | 6 |
| Z30 | 10x760Li | 30 | 760 | 787 | 10 | 6 |
| Z30.50 | 10x775Li | 30.5 | 775 | 797 | 10 | 6 |
| Z30.75 | 10x780Li | 30.75 | 780 | 800 | 10 | 6 |
| Z31 | 10x790Li | 31 | 790 | 810 | 10 | 6 |
| Z31.50 | 10x800Li | 31.5 | 800 | 825 | 10 | 6 |
| Z32 | 10x815Li | 32 | 815 | 842 | 10 | 6 |
| Z32.50 | 10x825Li | 32.5 | 825 | 850 | 10 | 6 |
| Z33 | 10x840Li | 33 | 840 | 865 | 10 | 6 |
| Z33.50 | 10x850Li | 33.5 | 850 | 872 | 10 | 6 |
| Z34 | 10x865Li | 34 | 865 | 887 | 10 | 6 |
| Z34.50 | 10x875Li | 34.5 | 875 | 900 | 10 | 6 |
| Z35 | 10x890Li | 35 | 890 | 915 | 10 | 6 |
| Z36 | 10x915Li | 36 | 915 | 940 | 10 | 6 |
| Z36.50 | 10x925Li | 36.5 | 925 | 950 | 10 | 6 |
| Z37 | 10x945Li | 37 | 945 | 972 | 10 | 6 |
| Z37.50 | 10x950Li | 37.5 | 950 | 975 | 10 | 6 |
| Z38 | 10x965Li | 38 | 965 | 990 | 10 | 6 |
| Z38.50 | 10x975Li | 38.5 | 975 | 1000 | 10 | 6 |
| Z39 | 10x990Li | 39 | 990 | 1010 | 10 | 6 |
| Z39.50 | 10x1000Li | 39.5 | 1000 | 1020 | 10 | 6 |
| Z40 | 10x1016Li | 40 | 1016 | 1038 | 10 | 6 |
| Z40.50 | 10x1030Li | 40.5 | 1030 | 1052 | 10 | 6 |
| Z41 | 10x1040Li | 41 | 1040 | 1060 | 10 | 6 |
| Z41.50 | 10x1050Li | 41.5 | 1050 | 1072 | 10 | 6 |
| Z42 | 10x1070Li | 42 | 1070 | 1100 | 10 | 6 |
| Z42.50 | 10x1080Li | 42.5 | 1080 | 1102 | 10 | 6 |
| Z43 | 10x1090Li | 43 | 1090 | 1115 | 10 | 6 |
| Z44 | 10x1120Li | 44 | 1120 | 1142 | 10 | 6 |
| Z45 | 10x1145Li | 45 | 1145 | 1170 | 10 | 6 |
| Z46 | 10x1170Li | 46 | 1170 | 1195 | 10 | 6 |
| Z46.50 | 10x1180Li | 46.5 | 1180 | 1202 | 10 | 6 |
| Z47 | 10x1194Li | 47 | 1194 | 1216 | 10 | 6 |
| Z48 | 10x1225Li | 48 | 1225 | 1250 | 10 | 6 |
| Z48.50 | 10x1235Li | 48.5 | 1235 | 1255 | 10 | 6 |
| Z49 | 10x1245Li | 49 | 1245 | 1270 | 10 | 6 |
| Z50 | 10x1270Li | 50 | 1270 | 1292 | 10 | 6 |
| Reference (inch) | Size (mm) | Length (inch) | Inside Length (mm) | Datum Length (mm) | Width (mm) | Height (mm) |
| --- | --- | --- | --- | --- | --- | --- |
| A15 | 13x382Li | 15 | 382 | 415 | 13 | 8 |
| A16 | 13x407Li | 16 | 407 | 437 | 13 | 8 |
| A18 | 13x457Li | 18 | 457 | 487 | 13 | 8 |
| A19 | 13x480Li | 19 | 480 | 510 | 13 | 8 |
| A20 | 13x508Li | 20 | 508 | 538 | 13 | 8 |
| A21 | 13x535Li | 21 | 535 | 565 | 13 | 8 |
| A22 | 13x560Li | 22 | 560 | 593 | 13 | 8 |
| A23 | 13x587Li | 23 | 587 | 620 | 13 | 8 |
| A23.50 | 13x600Li | 23.5 | 600 | 630 | 13 | 8 |
| A24 | 13x610Li | 24 | 610 | 640 | 13 | 8 |
| A25 | 13x630Li | 25 | 630 | 660 | 13 | 8 |
| A25.50 | 13x650Li | 25.5 | 650 | 680 | 13 | 8 |
| A26 | 13x660Li | 26 | 660 | 690 | 13 | 8 |
| A26.50 | 13x680Li | 26.5 | 680 | 710 | 13 | 8 |
| A27 | 13x686Li | 27 | 686 | 716 | 13 | 8 |
| A27.50 | 13x700Li | 27.5 | 700 | 730 | 13 | 8 |
| A28 | 13x710Li | 28 | 710 | 743 | 13 | 8 |
| A28.50 | 13x720Li | 28.5 | 720 | 750 | 13 | 8 |
| A29 | 13x730Li | 29 | 730 | 760 | 13 | 8 |
| A29.50 | 13x750Li | 29.5 | 750 | 780 | 13 | 8 |
| A30 | 13x767Li | 30 | 767 | 800 | 13 | 8 |
| A31 | 13x787Li | 31 | 787 | 820 | 13 | 8 |
| A31.50 | 13x800Li | 31.5 | 800 | 830 | 13 | 8 |
| A32 | 13x813Li | 32 | 813 | 850 | 13 | 8 |
| A32.50 | 13x825Li | 32.5 | 825 | 855 | 13 | 8 |
| A33 | 13x838Li | 33 | 838 | 870 | 13 | 8 |
| A33.50 | 13x850Li | 33.5 | 850 | 880 | 13 | 8 |
| A34 | 13x860Li | 34 | 860 | 900 | 13 | 8 |
| A34.50 | 13x875Li | 34.5 | 875 | 905 | 13 | 8 |
| A35 | 13x889Li | 35 | 889 | 919 | 13 | 8 |
| A35.50 | 13x900Li | 35.5 | 900 | 930 | 13 | 8 |
| A36 | 13x914Li | 36 | 914 | 950 | 13 | 8 |
| A36.50 | 13x925Li | 36.5 | 925 | 960 | 13 | 8 |
| A37 | 13x940Li | 37 | 940 | 970 | 13 | 8 |
| A37.50 | 13x950Li | 37.5 | 950 | 980 | 13 | 8 |
| A38 | 13x965Li | 38 | 965 | 1000 | 13 | 8 |
| A38.50 | 13x980Li | 38.5 | 980 | 1010 | 13 | 8 |
| A39 | 13x992Li | 39 | 992 | 1020 | 13 | 8 |
| A39.50 | 13x1000Li | 39.5 | 1000 | 1030 | 13 | 8 |
| A40 | 13x1016Li | 40 | 1016 | 1040 | 13 | 8 |
| A41 | 13x1041Li | 41 | 1041 | 1071 | 13 | 8 |
| A41.50 | 13x1054Li | 41.5 | 1054 | 1084 | 13 | 8 |
| A42 | 13x1067Li | 42 | 1067 | 1100 | 13 | 8 |
| A42.50 | 13x1080Li | 42.5 | 1080 | 1110 | 13 | 8 |
| A43 | 13x1100Li | 43 | 1100 | 1120 | 13 | 8 |
| A44 | 13x1120Li | 44 | 1120 | 1150 | 13 | 8 |
| A45 | 13x1143Li | 45 | 1143 | 1180 | 13 | 8 |
| A46 | 13x1168Li | 46 | 1168 | 1200 | 13 | 8 |
| A47 | 13x1200Li | 47 | 1200 | 1230 | 13 | 8 |
| A47.50 | 13x1210Li | 47.5 | 1210 | 1245 | 13 | 8 |
| A48 | 13x1220Li | 48 | 1220 | 1250 | 13 | 8 |
| A48.50 | 13x1232Li | 48.5 | 1232 | 1262 | 13 | 8 |
| A49 | 13x1250Li | 49 | 1250 | 1280 | 13 | 8 |
| A50 | 13x1270Li | 50 | 1270 | 1300 | 13 | 8 |
| A51 | 13x1300Li | 51 | 1300 | 1320 | 13 | 8 |
| A52 | 13x1320Li | 52 | 1320 | 1350 | 13 | 8 |
| A53 | 13x1346Li | 53 | 1346 | 1380 | 13 | 8 |
| A54 | 13x1372Li | 54 | 1372 | 1400 | 13 | 8 |
| A55 | 13x1400Li | 55 | 1400 | 1430 | 13 | 8 |
| A56 | 13x1422Li | 56 | 1422 | 1450 | 13 | 8 |
| A57 | 13x1450Li | 57 | 1450 | 1480 | 13 | 8 |
| A58 | 13x1475Li | 58 | 1475 | 1500 | 13 | 8 |
| A59 | 13x1500Li | 59 | 1500 | 1530 | 13 | 8 |
| A60 | 13x1525Li | 60 | 1525 | 1557 | 13 | 8 |
| A61 | 13x1550Li | 61 | 1550 | 1580 | 13 | 8 |
| A62 | 13x1575Li | 62 | 1575 | 1600 | 13 | 8 |
| A63 | 13x1600Li | 63 | 1600 | 1630 | 13 | 8 |
| A64 | 13x1625Li | 64 | 1625 | 1650 | 13 | 8 |
| A65 | 13x1650Li | 65 | 1650 | 1680 | 13 | 8 |
| A66 | 13x1676Li | 66 | 1676 | 1700 | 13 | 8 |
| A67 | 13x1700Li | 67 | 1700 | 1730 | 13 | 8 |
| A68 | 13x1725Li | 68 | 1725 | 1750 | 13 | 8 |
| A69 | 13x1750Li | 69 | 1750 | 1780 | 13 | 8 |
| A70 | 13x1775Li | 70 | 1775 | 1800 | 13 | 8 |
| A71 | 13x1800Li | 71 | 1800 | 1840 | 13 | 8 |
| A72 | 13x1825Li | 72 | 1825 | 1850 | 13 | 8 |
| A73 | 13x1854Li | 73 | 1854 | 1884 | 13 | 8 |
| A74 | 13x1880Li | 74 | 1880 | 1910 | 13 | 8 |
| A75 | 13x1900Li | 75 | 1900 | 1930 | 13 | 8 |
| A76 | 13x1930Li | 76 | 1930 | 1965 | 13 | 8 |
| A77 | 13x1956Li | 77 | 1956 | 1989 | 13 | 8 |
| A78 | 13x1980Li | 78 | 1980 | 2013 | 13 | 8 |
| A79 | 13x2000Li | 79 | 2000 | 2030 | 13 | 8 |
| A80 | 13x2032Li | 80 | 2032 | 2062 | 13 | 8 |
| A81 | 13x2060Li | 81 | 2060 | 2093 | 13 | 8 |
| A82 | 13x2083Li | 82 | 2083 | 2120 | 13 | 8 |
| A83 | 13x2100Li | 83 | 2100 | 2133 | 13 | 8 |
| A84 | 13x2134Li | 84 | 2134 | 2170 | 13 | 8 |
| A85 | 13x2160Li | 85 | 2160 | 2193 | 13 | 8 |
| A86 | 13x2187Li | 86 | 2187 | 2220 | 13 | 8 |
| A87 | 13x2210Li | 87 | 2210 | 2240 | 13 | 8 |
| A88 | 13x2240Li | 88 | 2240 | 2270 | 13 | 8 |
| A89 | 13x2261Li | 89 | 2261 | 2300 | 13 | 8 |
| A90 | 13x2286Li | 90 | 2286 | 2325 | 13 | 8 |
| A91 | 13x2311Li | 91 | 2311 | 2340 | 13 | 8 |
| A92 | 13x2337Li | 92 | 2337 | 2367 | 13 | 8 |
| A93 | 13x2360Li | 93 | 2360 | 2400 | 13 | 8 |
| A94 | 13x2388Li | 94 | 2388 | 2418 | 13 | 8 |
| A95 | 13x2413Li | 95 | 2413 | 2450 | 13 | 8 |
| A96 | 13x2438Li | 96 | 2438 | 2468 | 13 | 8 |
| A96.50 | 13x2450Li | 96.5 | 2450 | 2480 | 13 | 8 |
| A97 | 13x2464Li | 97 | 2464 | 2500 | 13 | 8 |
| A98 | 13x2500Li | 98 | 2500 | 2530 | 13 | 8 |
| A100 | 13x2540Li | 100 | 2540 | 2570 | 13 | 8 |
| A101 | 13x2570Li | 101 | 2570 | 2600 | 13 | 8 |
| A102 | 13x2591Li | 102 | 2591 | 2625 | 13 | 8 |
| A103 | 13x2620Li | 103 | 2620 | 2650 | 13 | 8 |
| A104 | 13x2650Li | 104 | 2650 | 2683 | 13 | 8 |
| A105 | 13x2667Li | 105 | 2667 | 2700 | 13 | 8 |
| A107 | 13x2725Li | 107 | 2725 | 2750 | 13 | 8 |
| A108 | 13x2743Li | 108 | 2743 | 2780 | 13 | 8 |
| A109 | 13x2770Li | 109 | 2770 | 2800 | 13 | 8 |
| A110 | 13x2800Li | 110 | 2800 | 2830 | 13 | 8 |
| A112 | 13x2845Li | 112 | 2845 | 2880 | 13 | 8 |
| A113 | 13x2870Li | 113 | 2870 | 2900 | 13 | 8 |
| A114 | 13x2896Li | 114 | 2896 | 2932 | 13 | 8 |
| A115 | 13x2920Li | 115 | 2920 | 2950 | 13 | 8 |
| A118 | 13x3000Li | 118 | 3000 | 3030 | 13 | 8 |
| A120 | 13x3048Li | 120 | 3048 | 3080 | 13 | 8 |
| A122 | 13x3100Li | 122 | 3100 | 3130 | 13 | 8 |
| A124 | 13x3150Li | 124 | 3150 | 3180 | 13 | 8 |
| A126 | 13x3200Li | 126 | 3200 | 3230 | 13 | 8 |
| A130 | 13x3302Li | 130 | 3302 | 3332 | 13 | 8 |
| A144 | 13x3658Li | 144 | 3658 | 3688 | 13 | 8 |
| Reference (inch) | Size (mm) | Length (inch) | Inside Length (mm) | Datum Length (mm) | Width (mm) | Height (mm) |
| --- | --- | --- | --- | --- | --- | --- |
| B23 | 17x585Li | 23 | 585 | 630 | 17 | 11 |
| B24 | 17x615Li | 24 | 615 | 655 | 17 | 11 |
| B25 | 17x630Li | 25 | 630 | 670 | 17 | 11 |
| B26 | 17x655Li | 26 | 655 | 695 | 17 | 11 |
| B27 | 17x686Li | 27 | 686 | 726 | 17 | 11 |
| B28 | 17x710Li | 28 | 710 | 750 | 17 | 11 |
| B29 | 17x737Li | 29 | 737 | 790 | 17 | 11 |
| B30 | 17x760Li | 30 | 760 | 800 | 17 | 11 |
| B31 | 17x787Li | 31 | 787 | 830 | 17 | 11 |
| B32 | 17x810Li | 32 | 810 | 850 | 17 | 11 |
| B33 | 17x840Li | 33 | 840 | 880 | 17 | 11 |
| B34 | 17x865Li | 34 | 865 | 910 | 17 | 11 |
| B34.50 | 17x875Li | 34.5 | 875 | 925 | 17 | 11 |
| B35 | 17x889Li | 35 | 889 | 929 | 17 | 11 |
| B35.50 | 17x905Li | 35.5 | 905 | 945 | 17 | 11 |
| B36 | 17x917Li | 36 | 917 | 960 | 17 | 11 |
| B37 | 17x940Li | 37 | 940 | 990 | 17 | 11 |
| B38 | 17x965Li | 38 | 965 | 1000 | 17 | 11 |
| B39 | 17x990Li | 39 | 990 | 1030 | 17 | 11 |
| B39.50 | 17x1000Li | 39.5 | 1000 | 1040 | 17 | 11 |
| B40 | 17x1016Li | 40 | 1016 | 1060 | 17 | 11 |
| B40.50 | 17x1030Li | 40.5 | 1030 | 1080 | 17 | 11 |
| B41 | 17x1040Li | 41 | 1040 | 1080 | 17 | 11 |
| B41.50 | 17x1054Li | 41.5 | 1054 | 1094 | 17 | 11 |
| B41.75 | 17x1060Li | 41.75 | 1060 | 1095 | 17 | 11 |
| B42 | 17x1067Li | 42 | 1067 | 1100 | 17 | 11 |
| B42.50 | 17x1080Li | 42.5 | 1080 | 1120 | 17 | 11 |
| B43 | 17x1090Li | 43 | 1090 | 1120 | 17 | 11 |
| B43.25 | 17x1100Li | 43.25 | 1100 | 1140 | 17 | 11 |
| B43.50 | 17x1105Li | 43.5 | 1105 | 1145 | 17 | 11 |
| B44 | 17x1120Li | 44 | 1120 | 1150 | 17 | 11 |
| B45 | 17x1150Li | 45 | 1150 | 1180 | 17 | 11 |
| B45.50 | 17x1160Li | 45.5 | 1160 | 1200 | 17 | 11 |
| B46 | 17x1175Li | 46 | 1175 | 1220 | 17 | 11 |
| B46.50 | 17x1180Li | 46.5 | 1180 | 1225 | 17 | 11 |
| B47 | 17x1200Li | 47 | 1200 | 1240 | 17 | 11 |
| B47.50 | 17x1215Li | 47.5 | 1215 | 1250 | 17 | 11 |
| B48 | 17x1225Li | 48 | 1225 | 1260 | 17 | 11 |
| B49 | 17x1250Li | 49 | 1250 | 1280 | 17 | 11 |
| B50 | 17x1270Li | 50 | 1270 | 1320 | 17 | 11 |
| B51 | 17x1300Li | 51 | 1300 | 1340 | 17 | 11 |
| B52 | 17x1320Li | 52 | 1320 | 1350 | 17 | 11 |
| B52.50 | 17x1335Li | 52.5 | 1335 | 1380 | 17 | 11 |
| B53 | 17x1350Li | 53 | 1350 | 1394 | 17 | 11 |
| B53.50 | 17x1360Li | 53.5 | 1360 | 1400 | 17 | 11 |
| B54 | 17x1372Li | 54 | 1372 | 1400 | 17 | 11 |
| B55 | 17x1400Li | 55 | 1400 | 1435 | 17 | 11 |
| B56 | 17x1422Li | 56 | 1422 | 1450 | 17 | 11 |
| B57 | 17x1450Li | 57 | 1450 | 1500 | 17 | 11 |
| B58 | 17x1473Li | 58 | 1473 | 1518 | 17 | 11 |
| B59 | 17x1500Li | 59 | 1500 | 1550 | 17 | 11 |
| B60 | 17x1525Li | 60 | 1525 | 1564 | 17 | 11 |
| B61 | 17x1550Li | 61 | 1550 | 1600 | 17 | 11 |
| B62 | 17x1575Li | 62 | 1575 | 1620 | 17 | 11 |
| B63 | 17x1600Li | 63 | 1600 | 1650 | 17 | 11 |
| B64 | 17x1625Li | 64 | 1625 | 1670 | 17 | 11 |
| B65 | 17x1650Li | 65 | 1650 | 1700 | 17 | 11 |
| B66 | 17x1676Li | 66 | 1676 | 1720 | 17 | 11 |
| B67 | 17x1700Li | 67 | 1700 | 1750 | 17 | 11 |
| B68 | 17x1725Li | 68 | 1725 | 1775 | 17 | 11 |
| B69 | 17x1750Li | 69 | 1750 | 1800 | 17 | 11 |
| B70 | 17x1775Li | 70 | 1775 | 1825 | 17 | 11 |
| B71 | 17x1800Li | 71 | 1800 | 1850 | 17 | 11 |
| B72 | 17x1829Li | 72 | 1829 | 1870 | 17 | 11 |
| B73 | 17x1850Li | 73 | 1850 | 1900 | 17 | 11 |
| B74 | 17x1880Li | 74 | 1880 | 1920 | 17 | 11 |
| B75 | 17x1900Li | 75 | 1900 | 1950 | 17 | 11 |
| B76 | 17x1930Li | 76 | 1930 | 1980 | 17 | 11 |
| B77 | 17x1950Li | 77 | 1950 | 2000 | 17 | 11 |
| B78 | 17x1981Li | 78 | 1981 | 2025 | 17 | 11 |
| B79 | 17x2000Li | 79 | 2000 | 2050 | 17 | 11 |
| B80 | 17x2032Li | 80 | 2032 | 2070 | 17 | 11 |
| B81 | 17x2060Li | 81 | 2060 | 2100 | 17 | 11 |
| B82 | 17x2083Li | 82 | 2083 | 2120 | 17 | 11 |
| B83 | 17x2100Li | 83 | 2100 | 2150 | 17 | 11 |
| B83.50 | 17x2120Li | 83.5 | 2120 | 2163 | 17 | 11 |
| B84 | 17x2134Li | 84 | 2134 | 2174 | 17 | 11 |
| B85 | 17x2160Li | 85 | 2160 | 2200 | 17 | 11 |
| B86 | 17x2185Li | 86 | 2185 | 2225 | 17 | 11 |
| B87 | 17x2210Li | 87 | 2210 | 2240 | 17 | 11 |
| B88 | 17x2240Li | 88 | 2240 | 2279 | 17 | 11 |
| B89 | 17x2261Li | 89 | 2261 | 2300 | 17 | 11 |
| B90 | 17x2286Li | 90 | 2286 | 2330 | 17 | 11 |
| B91 | 17x2300Li | 91 | 2300 | 2340 | 17 | 11 |
| B92 | 17x2337Li | 92 | 2337 | 2380 | 17 | 11 |
| B93 | 17x2360Li | 93 | 2360 | 2400 | 17 | 11 |
| B94 | 17x2388Li | 94 | 2388 | 2440 | 17 | 11 |
| B95 | 17x2413Li | 95 | 2413 | 2450 | 17 | 11 |
| B96 | 17x2438Li | 96 | 2438 | 2480 | 17 | 11 |
| B97 | 17x2465Li | 97 | 2465 | 2500 | 17 | 11 |
| B98 | 17x2500Li | 98 | 2500 | 2540 | 17 | 11 |
| B99 | 17x2515Li | 99 | 2515 | 2550 | 17 | 11 |
| B100 | 17x2540Li | 100 | 2540 | 2584 | 17 | 11 |
| B101 | 17x2565Li | 101 | 2565 | 2600 | 17 | 11 |
| B102 | 17x2600Li | 102 | 2600 | 2640 | 17 | 11 |
| B103 | 17x2616Li | 103 | 2616 | 2650 | 17 | 11 |
| B104 | 17x2650Li | 104 | 2650 | 2694 | 17 | 11 |
| B105 | 17x2667Li | 105 | 2667 | 2700 | 17 | 11 |
| B106 | 17x2700Li | 106 | 2700 | 2745 | 17 | 11 |
| B107 | 17x2718Li | 107 | 2718 | 2760 | 17 | 11 |
| B108 | 17x2750Li | 108 | 2750 | 2790 | 17 | 11 |
| B109 | 17x2760Li | 109 | 2760 | 2800 | 17 | 11 |
| B110 | 17x2800Li | 110 | 2800 | 2844 | 17 | 11 |
| B112 | 17x2845Li | 112 | 2845 | 2895 | 17 | 11 |
| B113 | 17x2870Li | 113 | 2870 | 2910 | 17 | 11 |
| B114 | 17x2900Li | 114 | 2900 | 2944 | 17 | 11 |
| B115 | 17x2921Li | 115 | 2921 | 2964 | 17 | 11 |
| B116 | 17x2950Li | 116 | 2950 | 2990 | 17 | 11 |
| B118 | 17x3000Li | 118 | 3000 | 3050 | 17 | 11 |
| B120 | 17x3048Li | 120 | 3048 | 3091 | 17 | 11 |
| B122 | 17x3100Li | 122 | 3100 | 3150 | 17 | 11 |
| B124 | 17x3150Li | 124 | 3150 | 3194 | 17 | 11 |
| B125 | 17x3175Li | 125 | 3175 | 3215 | 17 | 11 |
| B126 | 17x3200Li | 126 | 3200 | 3245 | 17 | 11 |
| B127 | 17x3227Li | 127 | 3227 | 3270 | 17 | 11 |
| B128 | 17x3250Li | 128 | 3250 | 3300 | 17 | 11 |
| B130 | 17x3302Li | 130 | 3302 | 3350 | 17 | 11 |
| B131 | 17x3327Li | 131 | 3327 | 3370 | 17 | 11 |
| B132 | 17x3350Li | 132 | 3350 | 3390 | 17 | 11 |
| B133 | 17x3378Li | 133 | 3378 | 3420 | 17 | 11 |
| B134 | 17x3404Li | 134 | 3404 | 3450 | 17 | 11 |
| B135 | 17x3429Li | 135 | 3429 | 3470 | 17 | 11 |
| B136 | 17x3450Li | 136 | 3450 | 3500 | 17 | 11 |
| B138 | 17x3505Li | 138 | 3505 | 3550 | 17 | 11 |
| B140 | 17x3550Li | 140 | 3550 | 3600 | 17 | 11 |
| B142 | 17x3600Li | 142 | 3600 | 3650 | 17 | 11 |
| B144 | 17x3658Li | 144 | 3658 | 3700 | 17 | 11 |
| B146 | 17x3700Li | 146 | 3700 | 3750 | 17 | 11 |
| B147 | 17x3737Li | 147 | 3737 | 3785 | 17 | 11 |
| B148 | 17x3750Li | 148 | 3750 | 3800 | 17 | 11 |
| B162 | 17x4115Li | 162 | 4115 | 4158 | 17 | 11 |
| B180 | 17x4572Li | 180 | 4572 | 4612 | 17 | 11 |
| B195 | 17x4953Li | 195 | 4953 | 5000 | 17 | 11 |
| B204 | 17x5182Li | 204 | 5182 | 5225 | 17 | 11 |
| Reference (inch) | Size (mm) | Length (inch) | Inside Length (mm) | Datum Length (mm) | Width (mm) | Height (mm) |
| --- | --- | --- | --- | --- | --- | --- |
| C43 | 22x1090Li | 43.00 | 1090 | 1148 | 22 | 14 |
| C45 | 22x1150Li | 45.00 | 1150 | 1210 | 22 | 14 |
| C48 | 22x1215Li | 48.00 | 1215 | 1273 | 22 | 14 |
| C50 | 22x1270Li | 50.00 | 1270 | 1330 | 22 | 14 |
| C51 | 22x1295Li | 51.00 | 1295 | 1353 | 22 | 14 |
| C52 | 22x1320Li | 52.00 | 1320 | 1378 | 22 | 14 |
| C53 | 22x1350Li | 53.00 | 1350 | 1400 | 22 | 14 |
| C60 | 22x1524Li | 60.00 | 1524 | 1582 | 22 | 14 |
| C63 | 22x1600Li | 63.00 | 1600 | 1658 | 22 | 14 |
| C65 | 22x1650Li | 65.00 | 1650 | 1714 | 22 | 14 |
| C67 | 22x1700Li | 67.00 | 1700 | 1758 | 22 | 14 |
| C69 | 22x1750Li | 69.00 | 1750 | 1808 | 22 | 14 |
| C71 | 22x1800Li | 71.00 | 1800 | 1858 | 22 | 14 |
| C72 | 22x1829Li | 72.00 | 1829 | 1887 | 22 | 14 |
| C73 | 22x1854Li | 73.00 | 1854 | 1912 | 22 | 14 |
| C75 | 22x1900Li | 75.00 | 1900 | 1957 | 22 | 14 |
| C76 | 22x1930Li | 76.00 | 1930 | 2000 | 22 | 14 |
| C77 | 22x1956Li | 77.00 | 1956 | 2014 | 22 | 14 |
| C78 | 22x1981Li | 78.00 | 1981 | 2050 | 22 | 14 |
| C79 | 22x2000Li | 79.00 | 2000 | 2058 | 22 | 14 |
| C85 | 22x2159Li | 85.00 | 2159 | 2217 | 22 | 14 |
| C88 | 22x2240Li | 88.00 | 2240 | 2298 | 22 | 14 |
| C90 | 22x2286Li | 90.00 | 2286 | 2350 | 22 | 14 |
| C93 | 22x2360Li | 93.00 | 2360 | 2418 | 22 | 14 |
| C96 | 22x2438Li | 96.00 | 2438 | 2500 | 22 | 14 |
| C99 | 22x2525Li | 99.00 | 2525 | 2585 | 22 | 14 |
| C100 | 22x2540Li | 100.00 | 2540 | 2600 | 22 | 14 |
| C102 | 22x2591Li | 102.00 | 2591 | 2650 | 22 | 14 |
| C105 | 22x2667Li | 105.00 | 2667 | 2725 | 22 | 14 |
| C108 | 22x2750Li | 108.00 | 2750 | 2800 | 22 | 14 |
| C111 | 22x2819Li | 111.00 | 2819 | 2886 | 22 | 14 |
| C120 | 22x3048Li | 120.00 | 3048 | 3106 | 22 | 14 |
| C124 | 22x3150Li | 124.00 | 3150 | 3208 | 22 | 14 |
| C128 | 22x3250Li | 128.00 | 3250 | 3308 | 22 | 14 |
| C132 | 22x3350Li | 132.00 | 3350 | 3408 | 22 | 14 |
| C134 | 22x3404Li | 134.00 | 3404 | 3462 | 22 | 14 |
| C140 | 22x3550Li | 140.00 | 3550 | 3608 | 22 | 14 |
| C144 | 22x3658Li | 144.00 | 3658 | 3716 | 22 | 14 |
| C147 | 22x3734Li | 147.00 | 3734 | 3795 | 22 | 14 |
| C158 | 22x4000Li | 158.00 | 4000 | 4060 | 22 | 14 |
| C162 | 22x4115Li | 162.00 | 4115 | 4177 | 22 | 14 |
| C173 | 22x4394Li | 173.00 | 4394 | 4452 | 22 | 14 |
| C175 | 22x4442Li | 175.00 | 4442 | 4500 | 22 | 14 |
| C180 | 22x4572Li | 180.00 | 4572 | 4630 | 22 | 14 |
| C195 | 22x4953Li | 195.00 | 4953 | 5011 | 22 | 14 |
| C204 | 22x5182Li | 204.00 | 5182 | 5244 | 22 | 14 |
| C225 | 22x5715Li | 225.00 | 5715 | 5773 | 22 | 14 |
| C238 | 22x6045Li | 238.00 | 6045 | 6103 | 22 | 14 |
| C270 | 22x6850Li | 270.00 | 6850 | 6916 | 22 | 14 |
| C280 | 22x7100Li | 280.00 | 7100 | 7158 | 22 | 14 |
| C295 | 22x7500Li | 295.00 | 7500 | 7558 | 22 | 14 |
| C345 | 22x8760Li | 345.00 | 8760 | 8818 | 22 | 14 |
| C420 | 22x10665Li | 420.00 | 10665 | 10723 | 22 | 14 |
| Reference (inch) | Size (mm) | Length (inch) | Inside Length (mm) | Datum Length (mm) | Width (mm) | Height (mm) |
| --- | --- | --- | --- | --- | --- | --- |
| D85 | 32x2159Li | 85.00 | 2159 | 2234 | 32 | 19 |
| D104 | 32x2650Li | 104.00 | 2650 | 2725 | 32 | 19 |
| D110 | 32x2800Li | 110.00 | 2800 | 2870 | 32 | 19 |
| D136 | 32x3454Li | 136.00 | 3454 | 3529 | 32 | 19 |
| D144 | 32x3658Li | 144.00 | 3658 | 3733 | 32 | 19 |
| D148 | 32x3750Li | 148.00 | 3750 | 3820 | 32 | 19 |
| D173 | 32x4394Li | 173.00 | 4394 | 4469 | 32 | 19 |
| D177 | 32x4500Li | 177.00 | 4500 | 4575 | 32 | 19 |
| D180 | 32x4572Li | 180.00 | 4572 | 4650 | 32 | 19 |
| D187 | 32x4750Li | 187.00 | 4750 | 4825 | 32 | 19 |
| D195 | 32x4953Li | 195.00 | 4953 | 5028 | 32 | 19 |
| D197 | 32x5000Li | 197.00 | 5000 | 5075 | 32 | 19 |
| D210 | 32x5334Li | 210.00 | 5334 | 5410 | 32 | 19 |
| D220 | 32x5600Li | 220.00 | 5600 | 5680 | 32 | 19 |
| D238 | 32x6045Li | 238.00 | 6045 | 6120 | 32 | 19 |
| D248 | 32x6300Li | 248.00 | 6300 | 6375 | 32 | 19 |
| D295 | 32x7500Li | 295.00 | 7500 | 7575 | 32 | 19 |
| D300 | 32x7620Li | 300.00 | 7620 | 7695 | 32 | 19 |
| D330 | 32x8382Li | 330.00 | 8382 | 8457 | 32 | 19 |
| D492 | 32x12500Li | 492.00 | 12500 | 12575 | 32 | 19 |