Polyurethane timing belts
Thermoset polyurethane for superior wear resistance, long lasting performance, strength and accuracy.
A cleaner modern and efficient alternative to rubber, Protorque polyurethane timing belts are particularly suited to a wide range of applications within the food & beverage, packaging and robotics industry. They are also used in applications where smooth running at high speeds are required. Such as: medical equipment, machine tools and optical instruments.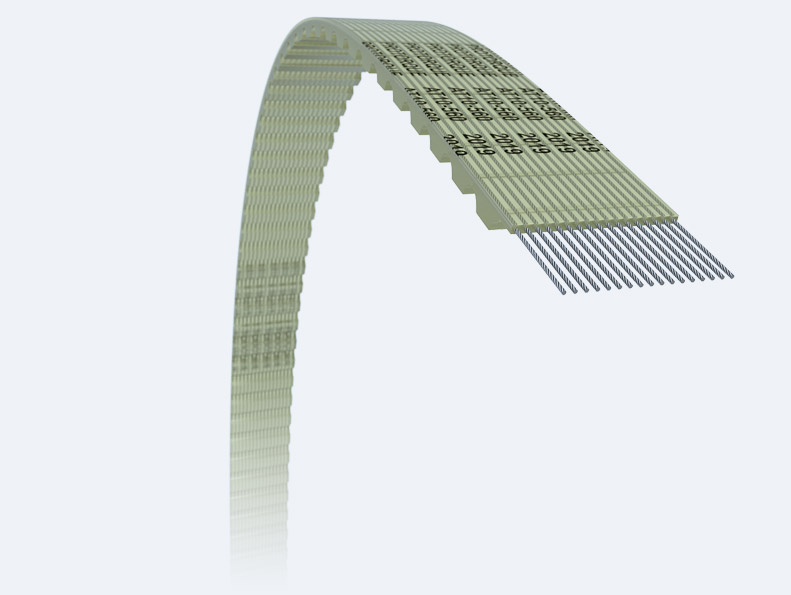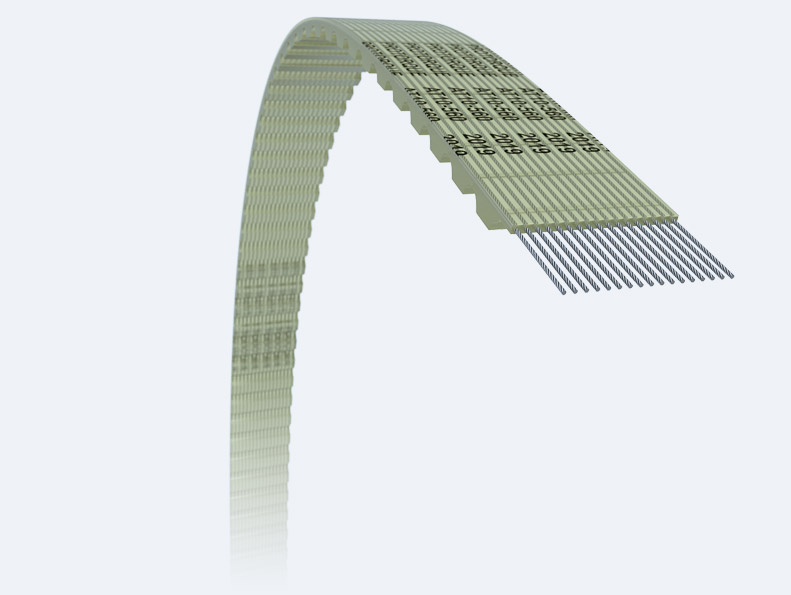 Protorque maintenance-free trapezoidal tooth endless PU timing belts are produced to the highest European requirements.
Using high-grade polyurethane compound, combined with graded steel cords to improve dimensional stability and provide extreme high-breaking load with low elongation.
Protorque PU timing belts are also available in double-sided design.
Polyurenthane Body
High-grade mixed thermoset polyurethane compound exceptional dimensional stability and rigidity with excellent abrasion resistance. Provides excellent resistance to wear, fatigue and environmental conditions.
Tensile Cord
Encapsulated within the polyurethane layers, steel wires form a tensile cord that delivers an extremely high breaking load, with low elongation to reach high transmission power.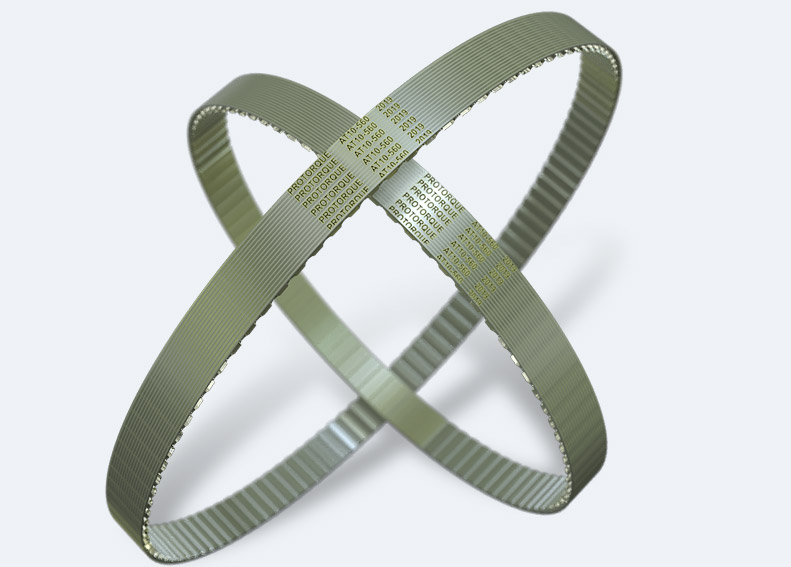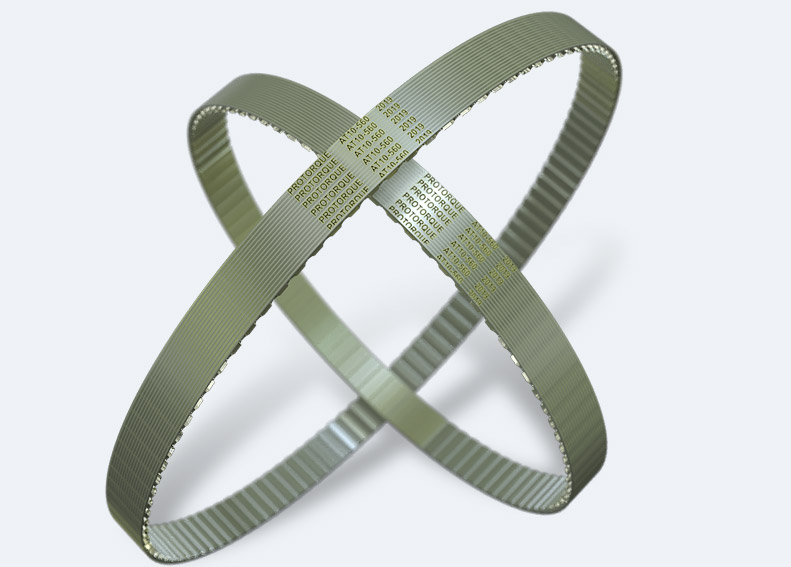 Temperature
-30°C to +80°C supporting a peak of up to 110°C
Resistant
Excellent abrasion and fatigue resistance.
Maximum resistance to oil and ozone, water, acids, alkalis and greases.
Standards
Meets RoHS and REACH requirements
Imperial classical trapezoidal tooth
Manufactured to DIN/ISO 5296 Parts 1 & 2, IP24 RMA-MPTA
Metric classical trapezoidal tooth
Manufactured to DIN 7721, ISO 13050, IP27 RMA-MPTA
Standards
Teeth range (Min-Max)
Pitch length (mm)
Imperial polyurethane timing belts
MXL
ISO 5296
75 – 466
152.40 – 946.912
XL
ISO 5296
30 - 315
152.40 - 2540.0
L
ISO 5296
33 - 194
314.33 - 1847.85
H
ISO 5296
40 - 220
508.0 - 2794.0
Metric polyurethane timing belts
T2.5
ISO / CD 17396
48 - 520
120 - 1300
T5
ISO / CD 17396
29 - 391
145 - 1955
T10
ISO / CD 17396
34 - 304
340 - 3040
AT5
ISO / CD 17396
60 - 400
300 - 2000
AT10
ISO / CD 17396
25 - 194
250 - 1940
Double-sided metric polyurethane timing belts
D-T5
ISO 5296
29 - 391
145 - 1955
D-T10
ISO 5296
34 - 304
340 - 3040
Imperial Classical Polyurethane Timing Belts
Standard widths: 1/8" (012), 3/16" (019) and 1/4" (025)
| Reference | Length (mm) | No. of Teeth | Tooth Pitch (mm) |
| --- | --- | --- | --- |
| 600-MXL | 152.400 | 75 | 2.032 |
| 680-MXL | 172.720 | 85 | 2.032 |
| 688-MXL | 174.752 | 86 | 2.032 |
| 696-MXL | 176.784 | 87 | 2.032 |
| 784-MXL | 199.136 | 98 | 2.032 |
| 840-MXL | 213.360 | 105 | 2.032 |
| 848-MXL | 215.392 | 106 | 2.032 |
| 864-MXL | 219.456 | 108 | 2.032 |
| 896-MXL | 227.584 | 112 | 2.032 |
| 644-MXL | 239.776 | 118 | 2.032 |
| 960-MXL | 243.840 | 120 | 2.032 |
| 976-MXL | 247.904 | 122 | 2.032 |
| 1040-MXL | 264.160 | 130 | 2.032 |
| 1056-MXL | 268.224 | 132 | 2.032 |
| 1264-MXL | 321.056 | 158 | 2.032 |
| 1296-MXL | 329.184 | 162 | 2.032 |
| 1320-MXL | 335.280 | 165 | 2.032 |
| 1328-MXL | 337.312 | 166 | 2.032 |
| 1360-MXL | 345.440 | 170 | 2.032 |
| 1472-MXL | 373.888 | 184 | 2.032 |
| 2960-MXL | 751.840 | 370 | 2.032 |
| 3120-MXL | 792.480 | 390 | 2.032 |
| 3728-MXL | 946.912 | 466 | 2.032 |
Imperial Classical Polyurethane Timing Belts
Standard widths: 1/4" (025), 5/16" (031), 3/8" (037) and 1/2" (050)
| Reference | Length (mm) | No. of Teeth | Tooth Pitch (mm) |
| --- | --- | --- | --- |
| 80-XL | 203.200 | 40 | 5.08 |
| 108-XL | 274.320 | 54 | 5.08 |
| 110-XL | 279.400 | 55 | 5.08 |
| 160-XL | 406.400 | 80 | 5.08 |
| 228-XL | 579.120 | 114 | 5.08 |
| 258-XL | 655.320 | 129 | 5.08 |
| 270-XL | 685.800 | 135 | 5.08 |
| 344-XL | 873.760 | 172 | 5.08 |
| 360-XL | 914.400 | 180 | 5.08 |
Imperial Classical Polyurethane Timing Belts
Standard widths: 1/4" (025), 5/16" (031), 3/8" (037), 1/2" (050), 3/4" (075) and 1" (100)
| Reference | Length (mm) | No. of Teeth | Tooth Pitch (mm) |
| --- | --- | --- | --- |
| 165-L | 419.100 | 44 | 9.525 |
| 187-L | 476.250 | 50 | 9.525 |
| 195-L | 495.300 | 52 | 9.525 |
| 202-L | 514.350 | 54 | 9.525 |
| 334-L | 847.725 | 89 | 9.525 |
| 360-L | 914.400 | 96 | 9.525 |
Imperial Classical Polyurethane Timing Belts
Standard widths: 1/4" (025), 5/16" (031), 3/8" (037), 1/2" (050), 3/4" (075) and 1" (100)
| Reference | Length (mm) | No. of Teeth | Tooth Pitch (mm) |
| --- | --- | --- | --- |
| 210-H | 533.4 | 42 | 12.7 |
| 240-H | 609.6 | 48 | 12.7 |
| 255-H | 647.7 | 51 | 12.7 |
| 270-H | 685.8 | 54 | 12.7 |
| 280-H | 711.2 | 56 | 12.7 |
| 510-H | 1295.4 | 102 | 12.7 |
| 600-H | 1524 | 120 | 12.7 |
| 700-H | 1778 | 140 | 12.7 |
| 950-H | 2413 | 190 | 12.7 |
| 1000-H | 2540 | 200 | 12.7 |
Metric Polyurethane Timing Belts
Standard widths: 4mm, 6mm, 8mm, 10mm and 12mm
| Reference | Length (mm) | No. of Teeth | Tooth Pitch (mm) |
| --- | --- | --- | --- |
| T2.5-120 | 120 | 48 | 2.5 |
| T2.5-145 | 145 | 58 | 2.5 |
| T2.5-160 | 160 | 64 | 2.5 |
| T2.5-177.5 | 178 | 71 | 2.5 |
| T2.5-200 | 200 | 80 | 2.5 |
| T2.5-210 | 210 | 84 | 2.5 |
| T2.5-230 | 230 | 92 | 2.5 |
| T2.5-230 | 230 | 92 | 2.5 |
| T2.5-245 | 245 | 98 | 2.5 |
| T2.5-265 | 265 | 106 | 2.5 |
| T2.5-277.5 | 278 | 111 | 2.5 |
| T2.5-285 | 285 | 114 | 2.5 |
| T2.5-290 | 290 | 116 | 2.5 |
| T2.5-305 | 305 | 122 | 2.5 |
| T2.5-330 | 330 | 132 | 2.5 |
| T2.5-380 | 380 | 152 | 2.5 |
| T2.5-480 | 480 | 192 | 2.5 |
| T2.5-500 | 500 | 200 | 2.5 |
| T2.5-540 | 540 | 216 | 2.5 |
| T2.5-600 | 600 | 240 | 2.5 |
| T2.5-780 | 780 | 312 | 2.5 |
| T2.5-1020 | 1020 | 408 | 2.5 |
| T2.5-1380 | 1380 | 552 | 2.5 |
Metric Polyurethane Timing Belts
Standard widths: 6mm, 8mm, 10mm, 12mm, 16mm, 20mm and 25mm
| Reference | Length (mm) | No. of Teeth | Tooth Pitch (mm) |
| --- | --- | --- | --- |
| AT5-225 | 225 | 45 | 5 |
| AT5-255 | 255 | 51 | 5 |
| AT5-280 | 280 | 56 | 5 |
| AT5-300 | 300 | 60 | 5 |
| AT5-355 | 355 | 71 | 5 |
| AT5-375 | 375 | 75 | 5 |
| AT5-390 | 390 | 78 | 5 |
| AT5-410 | 410 | 82 | 5 |
| AT5-415 | 415 | 83 | 5 |
| AT5-420 | 420 | 84 | 5 |
| AT5-455 | 455 | 91 | 5 |
| AT5-475 | 475 | 95 | 5 |
| AT5-480 | 480 | 96 | 5 |
| AT5-600 | 600 | 120 | 5 |
| AT5-610 | 610 | 122 | 5 |
| AT5-620 | 620 | 124 | 5 |
| AT5-720 | 720 | 144 | 5 |
| AT5-780 | 780 | 156 | 5 |
| AT5-885 | 885 | 177 | 5 |
| AT5-2220 | 2220 | 444 | 5 |
| AT5-2225 | 2225 | 445 | 5 |
Metric Polyurethane Timing Belts
Standard widths: 6mm, 8mm, 10mm, 12mm, 16mm, 20mm and 25mm
| Reference | Length (mm) | No. of Teeth | Tooth Pitch (mm) |
| --- | --- | --- | --- |
| T5-160 | 160 | 32 | 5 |
| T5-165 | 165 | 33 | 5 |
| T5-180 | 180 | 36 | 5 |
| T5-185 | 185 | 37 | 5 |
| T5-200 | 200 | 40 | 5 |
| T5-210 | 210 | 42 | 5 |
| T5-215 | 215 | 43 | 5 |
| T5-220 | 220 | 44 | 5 |
| T5-225 | 225 | 45 | 5 |
| T5-245 | 245 | 49 | 5 |
| T5-250 | 250 | 50 | 5 |
| T5-255 | 255 | 51 | 5 |
| T5-260 | 260 | 52 | 5 |
| T5-270 | 270 | 54 | 5 |
| T5-275 | 275 | 55 | 5 |
| T5-280 | 280 | 56 | 5 |
| T5-295 | 295 | 59 | 5 |
| T5-300 | 300 | 60 | 5 |
| T5-305 | 305 | 61 | 5 |
| T5-310 | 310 | 62 | 5 |
| T5-315 | 315 | 63 | 5 |
| T5-320 | 320 | 64 | 5 |
| T5-325 | 325 | 65 | 5 |
| T5-330 | 330 | 66 | 5 |
| T5-340 | 340 | 68 | 5 |
| T5-350 | 350 | 70 | 5 |
| T5-355 | 355 | 71 | 5 |
| T5-360 | 360 | 72 | 5 |
| T5-365 | 365 | 73 | 5 |
| T5-375 | 375 | 75 | 5 |
| T5-390 | 390 | 78 | 5 |
| T5-400 | 400 | 80 | 5 |
| T5-410 | 410 | 82 | 5 |
| T5-420 | 420 | 84 | 5 |
| T5-425 | 425 | 85 | 5 |
| T5-430 | 430 | 86 | 5 |
| T5-440 | 440 | 88 | 5 |
| T5-445 | 445 | 89 | 5 |
| T5-450 | 450 | 90 | 5 |
| T5-455 | 455 | 91 | 5 |
| T5-460 | 460 | 92 | 5 |
| T5-475 | 475 | 95 | 5 |
| T5-480 | 480 | 96 | 5 |
| T5-500 | 500 | 100 | 5 |
| T5-510 | 510 | 102 | 5 |
| T5-525 | 525 | 105 | 5 |
| T5-545 | 545 | 109 | 5 |
| T5-560 | 560 | 112 | 5 |
| T5-575 | 575 | 115 | 5 |
| T5-590 | 590 | 118 | 5 |
| T5-600 | 600 | 120 | 5 |
| T5-620 | 620 | 124 | 5 |
| T5-625 | 625 | 125 | 5 |
| T5-630 | 630 | 126 | 5 |
| T5-640 | 640 | 128 | 5 |
| T5-650 | 650 | 130 | 5 |
| T5-660 | 660 | 132 | 5 |
| T5-675 | 675 | 135 | 5 |
| T5-690 | 690 | 138 | 5 |
| T5-700 | 700 | 140 | 5 |
| T5-720 | 720 | 144 | 5 |
| T5-725 | 725 | 145 | 5 |
| T5-750 | 750 | 150 | 5 |
| T5-815 | 815 | 163 | 5 |
| T5-820 | 820 | 164 | 5 |
| T5-840 | 840 | 168 | 5 |
| T5-850 | 850 | 170 | 5 |
| T5-990 | 990 | 198 | 5 |
| T5-1000 | 1000 | 200 | 5 |
| T5-1075 | 1075 | 215 | 5 |
| T5-1295 | 1295 | 259 | 5 |
| T5-1380 | 1380 | 276 | 5 |
| T5-1400 | 1400 | 280 | 5 |
| T5-1440 | 1440 | 288 | 5 |
| T5-1510 | 1510 | 302 | 5 |
| T5-1670 | 1670 | 334 | 5 |
| T5-1700 | 1700 | 340 | 5 |
Metric Polyurethane Timing Belts
Standard widths: 10mm, 12mm, 16mm, 20mm, 25mm, 32mm, 50mm and 75mm
| Reference | Length (mm) | No. of Teeth | Tooth Pitch (mm) |
| --- | --- | --- | --- |
| AT10-500 | 500 | 50 | 10 |
| AT10-560 | 560 | 56 | 10 |
| AT10-610 | 610 | 61 | 10 |
| AT10-840 | 840 | 84 | 10 |
| AT10-890 | 890 | 89 | 10 |
| AT10-980 | 980 | 98 | 10 |
| AT10-1150 | 1150 | 115 | 10 |
| AT10-1280 | 1280 | 128 | 10 |
| AT10-1320 | 1320 | 132 | 10 |
| AT10-1400 | 1400 | 140 | 10 |
| AT10-1500 | 1500 | 150 | 10 |
| AT10-1700 | 1700 | 170 | 10 |
| AT10-1800 | 1800 | 180 | 10 |
Metric Polyurethane Timing Belts
Standard widths: 10mm, 12mm, 16mm, 20mm, 25mm, 32mm, 50mm and 75mm
| Reference | Length (mm) | No. of Teeth | Tooth Pitch (mm) |
| --- | --- | --- | --- |
| T10-250 | 250 | 25 | 10 |
| T10-260 | 260 | 26 | 10 |
| T10-320 | 320 | 32 | 10 |
| T10-340 | 340 | 34 | 10 |
| T10-350 | 350 | 35 | 10 |
| T10-370 | 370 | 37 | 10 |
| T10-410 | 410 | 41 | 10 |
| T10-440 | 440 | 44 | 10 |
| T10-450 | 450 | 45 | 10 |
| T10-480 | 480 | 48 | 10 |
| T10-500 | 500 | 50 | 10 |
| T10-510 | 510 | 51 | 10 |
| T10-530 | 530 | 53 | 10 |
| T10-550 | 550 | 55 | 10 |
| T10-560 | 560 | 56 | 10 |
| T10-600 | 600 | 60 | 10 |
| T10-610 | 610 | 61 | 10 |
| T10-630 | 630 | 63 | 10 |
| T10-650 | 650 | 65 | 10 |
| T10-660 | 660 | 66 | 10 |
| T10-680 | 680 | 68 | 10 |
| T10-690 | 690 | 69 | 10 |
| T10-700 | 700 | 70 | 10 |
| T10-720 | 720 | 72 | 10 |
| T10-730 | 730 | 73 | 10 |
| T10-740 | 740 | 74 | 10 |
| T10-750 | 750 | 75 | 10 |
| T10-760 | 760 | 76 | 10 |
| T10-780 | 780 | 78 | 10 |
| T10-800 | 800 | 80 | 10 |
| T10-810 | 810 | 81 | 10 |
| T10-840 | 840 | 84 | 10 |
| T10-850 | 850 | 85 | 10 |
| T10-880 | 880 | 88 | 10 |
| T10-890 | 890 | 89 | 10 |
| T10-900 | 900 | 90 | 10 |
| T10-920 | 920 | 92 | 10 |
| T10-910 | 910 | 91 | 10 |
| T10-950 | 950 | 95 | 10 |
| T10-970 | 970 | 97 | 10 |
| T10-980 | 980 | 98 | 10 |
| T10-1000 | 1000 | 100 | 10 |
| T10-1010 | 1010 | 101 | 10 |
| T10-1020 | 1020 | 102 | 10 |
| T10-1050 | 1050 | 105 | 10 |
| T10-1080 | 1080 | 108 | 10 |
| T10-1110 | 1110 | 111 | 10 |
| T10-1140 | 1140 | 114 | 10 |
| T10-1300 | 1300 | 130 | 10 |
| T10-1440 | 1440 | 144 | 10 |
| T10-1600 | 1600 | 160 | 10 |
| T10-1850 | 1850 | 185 | 10 |
| T10-1880 | 1880 | 188 | 10 |
| T10-2250 | 2250 | 225 | 10 |
Dual Sided Metric Polyurethane Timing Belts
Standard widths: 10mm, 12mm, 16mm, 20mm, 25mm, 32mm, 50mm and 75mm
| Reference | Length (mm) | No. of Teeth | Tooth Pitch (mm) |
| --- | --- | --- | --- |
| D-T10-410 | 410 | 41 | 10 |
| D-T10-500 | 500 | 50 | 10 |
| D-T10-920 | 920 | 92 | 10 |
| D-T10-1100 | 1100 | 110 | 10 |